Have you ever been to an event where the weather was horrible but still had a lot of fun? Village Au Pied-Du- Courant is qualified to create an ambiance which lets us live out a summer day no matter the weather outside. A creative team of architects and designers made Village Au Pied-Du- Courant a colourful and summery place to be with your friends, family, and even kids.

Acting as an urban alternative to parks, the space sits along the St-Lawrence. Unlike a park, however, creators have made a giant sandbox where kids play while their parents relax on red and white striped beach chairs with cold beers. It is the best place to enjoy great music and have some quality time with loved ones. They have achieved a truly relaxing atmosphere. Moreover, it is free!

Creators also succeed on getting our attention by astonishing our eyes with the flashy colours spread among shipping containers and makeshift walls. Inside a giant pink shipping container, there is a separate little nook called Cabinet De Lecture where you can read books and relax on one of their cozy hammocks nearby.

A blue shipping container houses the Gallerie Du Village. The art gallery serves as a platform to give local citizens and organisations a chance to show their artistic creations and ongoing projects. Each month, new emerging talents in the visual arts and design will be exhibited. Likewise, local bands and artists will perform to share their hidden talent and create the perfect ambiance for everyone. Village Au Pied-Du- Courant knows the value of a great time.

Offering food trucks and homemade cocktails, the village seems constructed to please all tastes. Affordable for downtown, you will be more than satisfied with the food. You will find an oasis of tastes in your plate, guaranteed. That delicious feeling will make you want to drink their cocktails even more!

All drinks are specifically served in recycle-friendly cups. This recycling and reusing concept creates an important reduction of waste because it makes people keep the same glass for the night. They also conceptualized decorated garbage cans; another great ecological idea. Their goal is to sensitize the public by bringing our attention to creative and colourful ways to promote recycling. Village Au Pied-Du- Courant has a system that offers great food and ecologic benefits. What could be more awesome?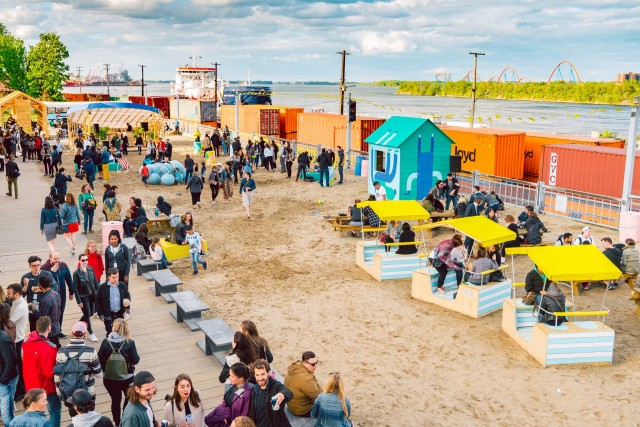 Village Au Pied-Du-Courant will definitely charm you with its various activities such as outdoor yoga, basketball games, and movies on the beach, amongst others! Go spend some quality time with your friends and enjoy the breathtaking view of the Village at night.

2100 Rue Notre-Dame Est, Montréal, QC H2K 4K3
Photos by Pascale Deschënes (@pascaledeschenes) et Jean Michel Seminaro (including featured image).