There's no question that one of the biggest food crazes going on right now is the poké bowl! Thankfully for us, we live in a city that's always keeping up with food trends. As luck would have it, Montreal has no shortage of places to enjoy these hearty but healthy dishes. One of these great establishments is Koa Lua, which has quickly become one of the top go-to places for Montrealers to satisfy their cravings for this popular Hawaiian dish!

It's apparent the moment you walk in that Koa Lua takes the theme of Hawaii very seriously. Tropical themed restaurants are popping up all over Montreal and we're definitely not sick of them! From their brightly coloured walls to a wide array of beach and ocean images, neon signs, and floral arrangements, Koa Lua is an automatic mood booster. An added dose of cool: some of their tables look like surfboards! You're in awe before you even try the food!

Koa Lua is the perfect place for both poké-holics and those who want to take the plunge and try this guilty pleasure for the first time. Their menu includes poké with salmon, tuna, shrimps, pork, and spam, as well as tofu, vegetarian, and gluten free bowls. It can be difficult and overwhelming to pick the right poké bowl but the staff is very helpful and willing to give suggestions.

For beginners we'd recommend the Ono (tuna, onions, chilli flakes, and sweet shoyu sauce) and the Black Magic (salmon, nikiri sauce, jalapeno, nori, crunch mix, and chilli flakes) bowls. For those who are poké pros and enjoy some really unique flavour combinations, you'll love the Papa California (tuna, volcano sauce, green papaya, pickled cucumber, crunch mix, tobiko, jalapeño, and cilantro) and the Mama California (salmon, fuego mayo, crab, green papaya, tempura, tobiko). Koa Lua really knows how to put great flavours together and you'll definitely want to keep going back to try a few. The bowls are quite hearty so go there with an appetite! The cost per bowl is between $13-$15 (plus tax).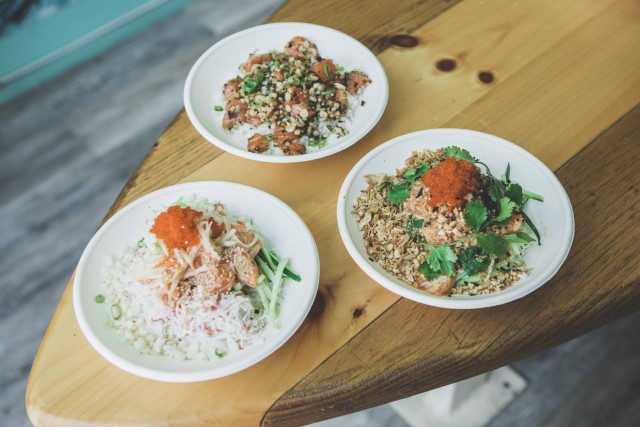 Another fantastic feature of Koa Lua: their 2 ideal downtown locations! The original is tucked away on Union Avenue right by Montreal faves Escondite and Habanera. The newest addition is on Saint-Catherine Street between Mackay and Bishop. Great for students and for those who work downtown and want to take a mini tropical break during your lunch hour. Should you choose to eat in, bear in mind that both restaurants are small and often crowded. You can easily avoid the crowds by taking one (or a few) bowls to go.

The Union location is open from 11:30am-4pm Mondays and Tuesdays and from 11:30am-9pm Wednesday to Friday (closed on Saturday and Sunday). The Saint Catherine locale is open Monday to Saturday from 11:30am-9pm and Sunday from 5:30pm-10pm. Check out Koa Lua for yourselves and you'll want to add it to your list of Montreal go-to restaurants!

1212 Avenue Union, Montréal, QC H3B 3C4
(514) 375-5959
1446 Rue Sainte-Catherine O, Montréal, QC H3G 1R3
(514) 375-5656
Photos by Dahlia Merlo (@dahllii) and Koa Lua.