In May, Montreal Commiccon announced their initial lineup, but they've been adding big names to their roster ever since.
The latest star to join us in Montreal will be none other than Sir Patrick Stewart. You may remember Sir Patrick Stewart from deeply underground movies such as X-Men, or even lesser known television shows such as Star Trek: The Next Generation, where he played Captain Jean-Luc Picard.
The king of internet memes and Sir Ian McKellen's bestie (fingers crossed he joins his bud in Montreal too!) is someone you absolutely need to catch a glimpse of at this year's edition.
On Saturday, September 13th, at 6:00pm, Montreal Comiccon presents the biggest group of Star Trek: The Next Generation cast yet, for their show Star Trek: TNG – Engaged! Joining the Captain will be Michael Dorn, who played Worf, Marina Sirtis, who played Deanna Troi, Brent Spiner, who played Data, Jonathan Frakes, who played William T. Riker, amongst others.
Trekkies rejoice! This year's edition of Montreal Comiccon will be one to remember.
This year's Comiccon is from Friday, September 12th to Sunday, September 14th, 2014 at the Palais de Congres.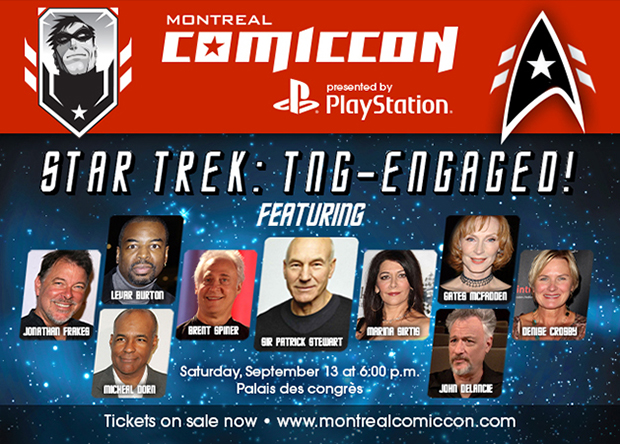 159 St Antoine St W, Montreal, QC H2Z 1H2
(514) 871-8122