Let's put the image of white tablecloth Italian dining aside and step into Vicolo, the newest restaurant in the Golden Square Mile. Boy are we ever happy to see it, because that area of Montreal has been lacking in good eats as of late.
Vicolo is actually quite large, taking up two floors, but we don't doubt they'll be able to fill it up. When the food is that good, people will come (flocking and pushing others out of the way). The décor is composed of wood, metal, and leather, giving the industrial design a cozier atmosphere. The lights are reminiscent of a warehouse, with Edison lightbulbs and metallic fixtures. But enough about the look, we want to talk about the food!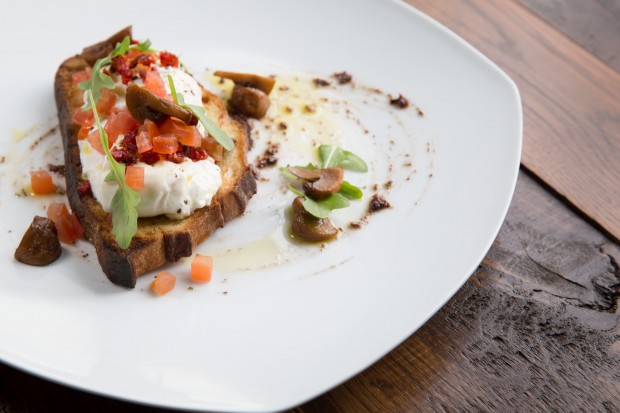 Chef Adam Zaitouni (previously of Grinder and Les Enfants Terribles) transforms classic Italian dishes into magical culinary concoctions. Vicolo takes the simple (yet mouthwatering and addictive and we're going to stop now because we're drooling) burrata and serves it with country bread, sun dried tomatoes, olive tapenade, pickled mushrooms, cherry tomatoes, and fresh arugula. Hello – we want to have some of that every day (with a gym membership on the side, of course). And then there's the ravioli stuffed with ricotta and spinach, topped with a blue cheese sauce, some more crumbled blue cheese, compressed pear, walnuts, poached cranberries, duck confit, and dehydrated duck fat. The flavours just sing in your mouth and you're left in tears when you realize there's nothing left in your plate.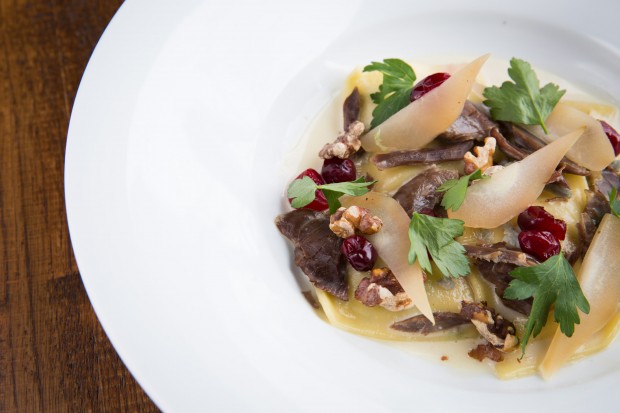 Their beef carpaccio is sliced paper thin and served with squid ink croutons (yes, you read that correctly, and yes, it's salty goodness), pine nuts, truffle cream, and soft boiled quail eggs. Vicolo also puts on a show, offering an entire cornish hen with a sprig of burning rosemary (so you can smell your food before it even hits the table), served on a bed of earthy barley and vegetables. Other amazing dishes include their grilled octopus cooked sous vide for six hours and their wild mushroom risotto with speck and truffle oil. We are getting hungry.
Their grand opening event was a smashing success, where they shared their delicious food with media and foodies alike. The pièce de résistance of the evening was their cheese and cured meats spread complete with grapes, figs, pomegranates, nuts, and honeycombs. We could have munched off of it all night!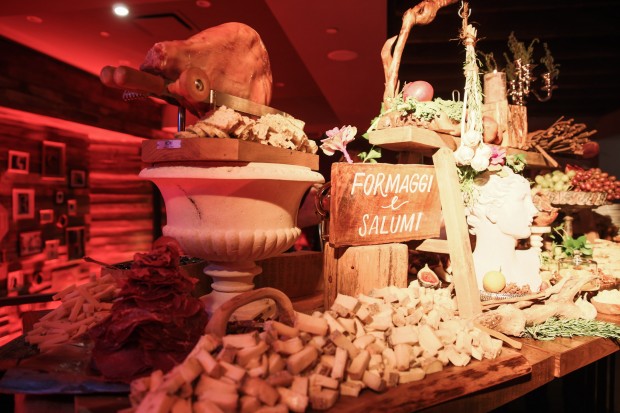 Vicolo is not your typical Italian restaurant. Chef Adam Zaitouni has modernized and added some pizazz to classic dishes, making them unique and incredible, worthy of multiple visits to the restaurant. Follow Vicolo on Facebook, Twitter, and Instagram to stalk their menu items (which will probably make you want to change your dinner plans so you can rush over there).
1425 Boulevard René-Lévesque Ouest, Montréal, QC H3G 1T7
(514) 544-4405