Nothing is worse than setting out your finest backyard flatware and getting drunk on the smell of striploin only to deliver cuts that underwhelm. And when barbecue goes bad, your guests sure have no problem critiquing your skills!
So how do you avoid sub-par meat and impress with your BBQ best? Chef Jonathan Garnier, founder of La Guilde Culinaire cooking school, and Chef Dora Floros, an 18-year veteran who teaches classes at L'Atelier Culinaire, give their best tips to avoid barbecue flame-outs.

You do know it's an oven, right?
If you love strutting in front of your grill with apron on and beer in hand, you're committing the first barbecue faux pas of leaving the hood open.
Would you cook with your oven door open? Exactly. Because letting out all the heat means less going to the food!
Conversely, you may be turning the heat up too high. "Just because your barbecue goes up to 700 doesn't mean it should. That's nuclear!" says Floros.

You're overly direct
"A big barbecue mistake is keeping the meat over the flame. You need to sear the meat, then cook the rest indirectly," says Garnier.
Floros says that people also forget to use the second shelf, which is a great tool for indirect heat.

Overdosing on marinades
Think you have to marinate meat for weeks to get the flavour through? Not necessarily.
"Putting meat in pineapple juice for too long breaks down the meat too fast, so you'll just have a mushy cut on your hands," says Garnier.
Each marinade has its own approach. For example, Garnier says that you should apply a sweet marinade after searing the meat, because otherwise you'll just get burnt sauce.

Squeezing 'til it's bleeding
Face it: you can't resist flattening and moving that juicy Angus burger around on the grill. But that's the surest way to a tough patty.
"You're not making a pancake here! Stop flattening or poking, which just lets the juices run out," explains Floros.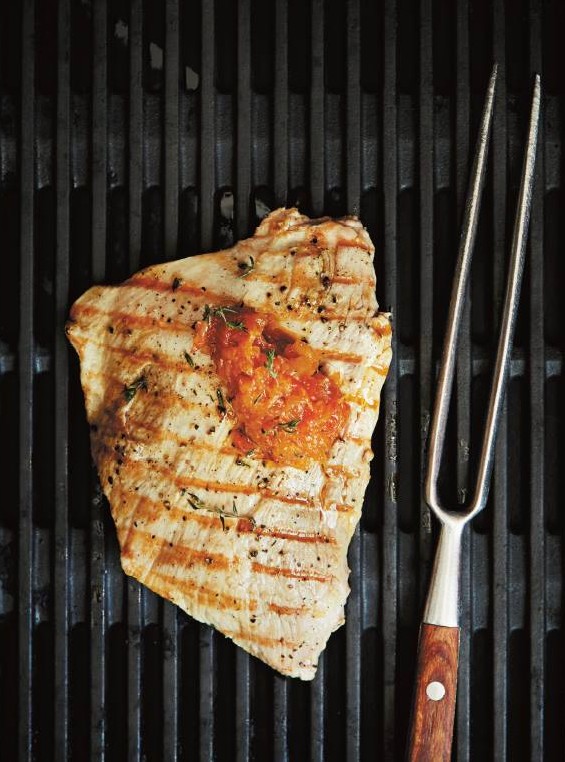 Forgetting the finish
The final mistake is forgetting about residual heat, as food continues to cook once it's off the grill.
Floros has a no-fail check method: "For a medium rib-eye, turn over once and then wait until the blood beads up at the top the second time." This way you don't have to cut and lose those lovely juices.
And don't forget to rest your meat so that the juices spread back out from the centre to the edges.
Want to avoid more meaty mistakes and up your BBQ game this fall? La Guilde Culinaire runs barbecue classes until the beginning of October. Check the schedule here. If you're closer to the South Shore, register for the Introduction to BBQ course at L'Atelier Culinaire and get notified when a date opens up.

La Guilde Culinaire
6381 Boul St-Laurent, Montréal, QC H2S 3C3
(514) 750-6050
L'Atelier Culinaire
8900 Boulevard Leduc #40, Brossard, QC J4Y 0G4
(450) 656-6161