La Diperie is a cute (and relatively new) ice cream shop that the city has been raving about! The relatively quaint and small-sized shop is warm and welcoming with its "Tiffany" blue painted walls. La Diperie only serves vanilla soft serve, but we promise that your ice cream will be anything but one dimensional. Brace yourself and read-on…
The fun begins the moment your vanilla soft ice cream is served into your cone (mini cones are available… and they're awesome).

Customers get to dip their soft serve in one of 21 different varieties of Belgium chocolate dips to create a solid outer shell for their ice cream. They have flavours such as: dark chocolate, cheesecake, Baileys, sucre à la crème, praline, cookie dough, Oreo, white chocolate strawberry, chocolate mint, hazelnut, and more. In fact, Montreall.com got the inside scoop from partner Francisco and it turns out there are a few surprises on the way. We can't tell you everything just yet (your stomachs will be blown away), but we can say that there are new dips on the horizon this season, such as lemon, lavender, and apple/cinnamon. 

The next step is to choose what topping you would like on top of that thick chocolate shell. The toppings are visible in little jars next to the dipping station. There are around 15 toppings to choose from including pretzels, cameralized pecans, coconut shreds, almond bits, pistachios, Rolos, and so much more!

To top it off (step 4), you can choose whether you would like a drizzle of syrup such as caramel, chocolate, strawberry, or other options. Of course, customers can choose combinations by La Diperie  or they can go wild and completely choose the toppings themselves. Some combinations are actually suggestions made by loyal ice-cream-loving customers and have been named after them (i.e. Becky's Fave, Madelaine's Oreo, and Aqua's Cheesecake).  

There are 5 different sizes to choose from. The mini $1, the small $3, the medium $4, the large $5, and the waffle cone 6$. More than 1 topping will result in a $0,50 surcharge. Also note that they take cash only. Most importantly, if you're looking for a late night snack, they're open from noon till midnight Thursday-Saturday and until 10pm Sunday-Wednesday.
The 5th and final step: enjoying your delicious custom-made frozen concoction.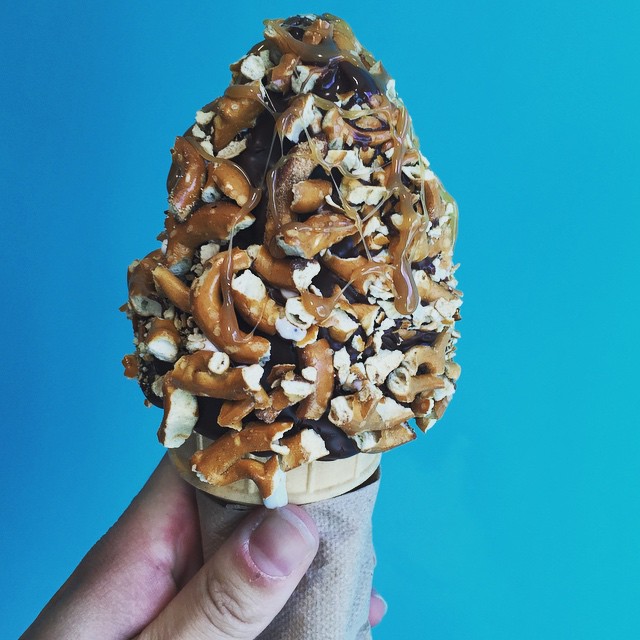 Beyond the amazing product lies a team of four passionate individuals. Sam and his wife Stéphanie (along with their sons) as well as Francisco and his wife Marlyn. All four work the shop day and night. None have any background in restauration. They all share two common passions: the love for food (more particularly ice cream) and making people smile. La Diperie accomplishes both.
La Diperie has without a doubt made its place in the Montreal ice cream market. They now even offer delicious catering services for all your party needs! Their constant ability to listen to their customers lends to a continuously evolving, creative, and innovative product. Their goal is simple: ice cream makes people happy, and every customer should arrive and leave the shop having had a great experience. This includes smiles, laughs, and even new friendships. Even the lineup has people smiling!
68 Ave des Pins E, Montréal, QC H2W 1N5
(514) 677-7130