Montreal's Quartier des Spectacles can be summed up in three words: life, art and entertainment. Showcasing the very essence of Montreal, this lively downtown area has become a popular international destination and now serves as the city's cultural hub. Reaching out from the central intersection of Sainte-Catherine and Saint-Laurent and running along City Councillors, Saint-Hubert, Sherbrooke and René-Lévesque, here's what this unique urban experience has to offer:
If you're in the neighbourhood and you're wondering which way to go, just follow the lights—literally. The Luminous Pathway highlights the area's attractions, while giving it that extra oomph. Start up on a trail of discovery and look out for the double row of red dots on sidewalks outside cultural venues.

Also, keep an eye out for architectural lighting and projections on building façades and windows, it might reveal a thing or two on their cultural role…

The Quartier des Spectacles is a constantly developing concept. With two public spaces big enough for concerts and festivals, the area is easily set up for large-scale events. The Place des Festivals boasts the largest display of interactive water fountains in Canada—feast your eyes on 235 water jets and 4 light tours. The space is also home to two of the city's best laid-back restaurants, the F Bar and Brasserie T. With a front-row view of the main outdoor stage, these spots are great if you want to catch the show live and grab a bite in a lively atmosphere.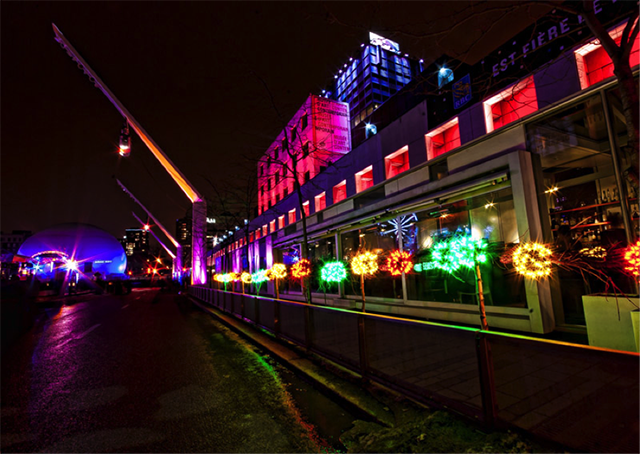 Facing the Adresse symphonique concert hall is Le Parterre, a new public space perfect for large gatherings. Connecting the two spaces is the Promenade des artistes. Here you'll find eleven room-sized glass structures that can be used to temporarily display art installations and service or sales kiosks.
For a complete list of public spaces, visit www.quartierdesspectacles.com/en/discover
The Quartier des Spectacles houses a number of restaurants, bars, theatres, museums, libraries, media centres and not to mention Place des Arts, the largest multi-purpose concert hall in Canada. From the Montreal International Jazz Festival, to POP Montréal, MONTRÉAL EN LUMIÈRE, and Just For Laughs, the area hosts the biggest and best events all year long. A favourite four-season destination for Montrealers and tourists alike!
For more information on the Quartier des Spectacles, upcoming events, tickets or promotions, visit www.quartierdesspectacles.com or www.lavitrine.com