Already binged The Haunting of Bly Manor and want to continue the Halloween fun? While we won't be able to celebrate the way we'd like to this year, we can still have a fun Halloween soirée with deliciously spooky food at home. Dust off your cauldron, cue the Stranger Things playlist, and start concocting these recipes for your family to enjoy.
Frankenstein Toast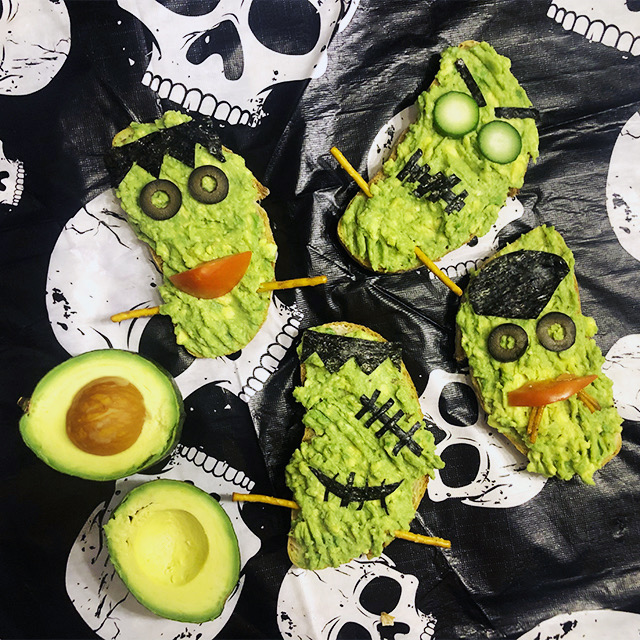 What's a Halloween morning without a visit from Frankenstein himself? Get your family in on the action and set your kitchen up as a science lab.
What you'll need:
1 ripe avocado
Your favourite bread (we love rye or sourdough (especially sourdough from Artisan Bread Mtl)
1/2 teaspoon extra-virgin olive oil
1/2 teaspoon lemon juice
Salt and pepper to taste
Toppings:
Tomato slices for Frankenstein's mouth
Dried seaweed for details such as the hair and eyes
2 pretzel sticks for Frankenstein's neck
Scoop out the avocado flesh and smash it in a bowl. Add extra-virgin olive oil, lemon juice, salt and pepper into your bowl and mix. Spread avocado mix onto your slice of bread. Cut the seaweed for Frankenstein's hair and eyes. Get creative with the seaweed hairdo designs. For the final touches, add the seaweed hair and eyes to your toast, add your tomato slice smile, and insert the pretzel sticks on both sides of the toast for Frankenstein's neck bolts. Enjoy this spooky treat!
Human Brains/Guts
To keep up with the spine-chilling theme, the combination of these ingredients is perfect to recreate gnarly human organs. The kids are sure to get a kick out of this one! We all love those healthy stuffed peppers. They're nutritious and delicious! Now let's reimagine them as a skull holding human brains! Check out this recipe from local Montrealer Clean Eating Goddess and make some creepy additions to really nail this look. We suggest adding some olive slices as eyes and a slice of a different coloured pepper as a mouth. Use toothpicks to attach them to your pepper. You can also carve up your pepper the way you would a pumpkin!
Dead Body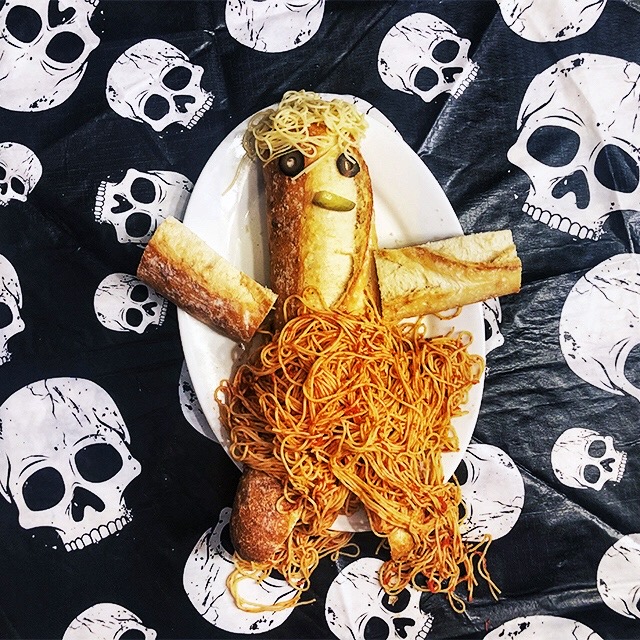 Is there a better combination than bread and pasta? Probably not. Well, transform this most delicious of meals into a dead man or woman with their guts spilling out all over the place.
What you'll need:
1 pack spaghetti (we like to keep it local, so we suggest getting Aliments Faita Forgione spaghetti and tomato sauce)
1 jar tomato sauce (if you want to make your own, we suggest this easy one from Priscila's Kitchen)
1 long baguette
1 olive sliced in half
1 pepperoncini or jalapeno slice (rounded)
Cook your pasta according to package directions. Heat up your tomato sauce. While these are cooking, let's prepare your dead body. Cut your baguette in half. One half will act as the head and torso. For the other half, cut it in half again, and then slice it down the middle. These 4 pieces will act as the body's arms and legs. Place them in the shape of a body on a serving platter. Use toothpicks to stick the appendages on to the torso.
Make a face on your dead body with the olive and pepper slices. Attach with toothpicks. When your pasta and sauce are cooked, mix them together (but keep some spaghetti on the side without sauce). Add a mountain of tomato sauce spaghetti onto the torso of your dead body, making sure to have noodles spilling off to the side. With the plain spaghetti you kept on the side, make some funky hair for your dead body (they're dead but they can still look good!). And voila! You've got yourself a dead body.
Vampire Punch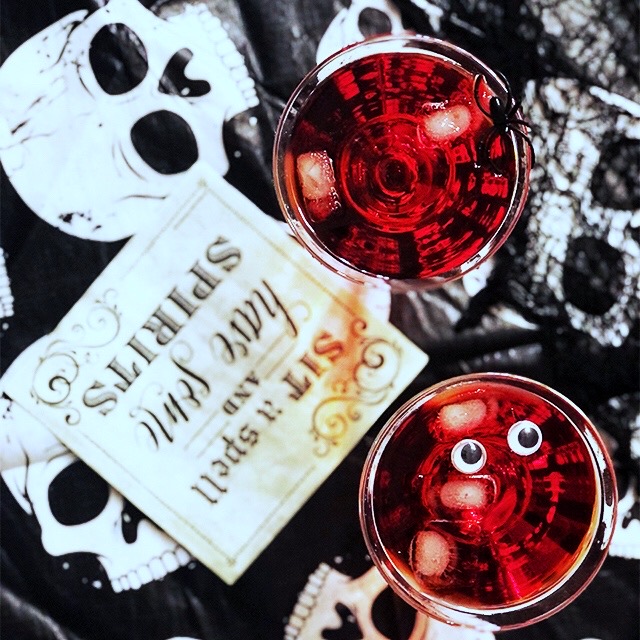 This one is fun for the whole family and can be adjusted to suit both adults and kids. Pretend you're drinking like a vampire with this devilish cocktail.
What you'll need:
Ice
1 oz vodka (keep it local with Cirka vodka, but omit if making virgin punch)
1 oz ginger ale (we like this one from locals 1642)
4 tsp grenadine
Red food colouring
Dry ice (optional – for the hard core Halloweeners)
Grab a cocktail glass and fill it with ice. Pour in your vodka if you are making an 18+ drink. Top it with 1 oz of ginger ale. Right before serving, drizzle in 4 tsp of grenadine, making sure to let the "blood" drip down to the bottom of the glass. For an extra spooky cocktail, add some more red food colouring and some dry ice.
Spider Web Squares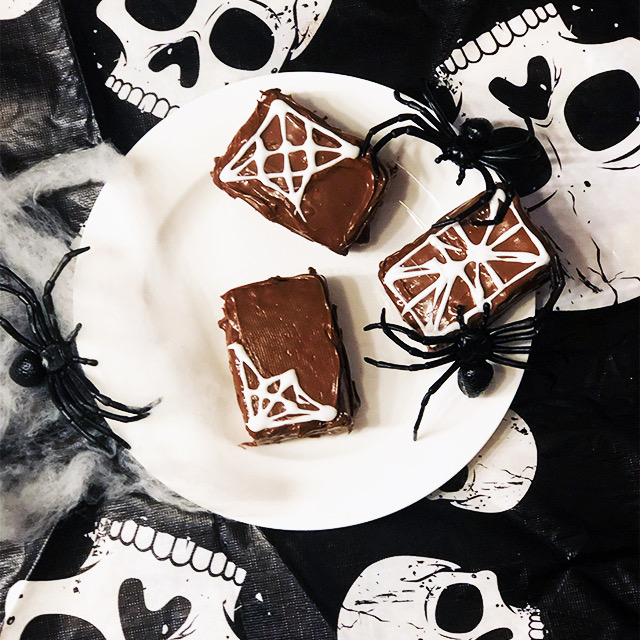 If you don't have the time to whip up a dessert (trust us, no judgement), we've got the perfect solution for you!
What you'll need:
Rice Krispie square (either homemade or in a box – if you choose to go homemade, may we suggest these delicious ones from a local gal, Choosing Chia)
Nutella
White cake icing
Spread Nutella over the Rice Krispy squares. There is no limit to how much Nutella you should use. Let your heart decide. Pipe your white cake icing to design the cobwebs. And don't worry about your art skills; a messier web is a spookier web! And look at that: a dessert that would make Mary Sanderson very proud!
And there you have it, folks! A ghoulish feast that will make you and the kids happy! Pro tip: play some Halloween classic movies while cooking to get you in the mood. To get the famjam excited, get a small chalkboard to write out your Halloween menu. Your family will be eagerly anticipating your creations, making the day that more thrilling. Don't forget to tag us @montreall in your photos if you decide to make these Halloween treats!
Have a haunted Halloween!