The Montreal sneaker culture has been on a constant rise and it is showing no signs of stopping. With shops like Off The Hook and Exclucity holding it down, there's no telling how big the sneaker culture in Montreal will get. Maybe one day our city will rival powerhouse cities like New York, Tokyo, London, Paris, and our neighbours in Toronto.
Montreal has been receiving many exclusive and limited sneaker releases recently, like the Adidas Yeezy Boosts and the Air Jordan x Don C Jordan IIs. As this happens, people begin to camp out in order to secure their purchase of those limited sneakers. And with any sneaker culture comes the sneaker after market. After selling out within the opening hour of release dates, some sneakers end up deadstock (never worn) in someone's collection or on someone's feet. The third option is that they end up on the resale market.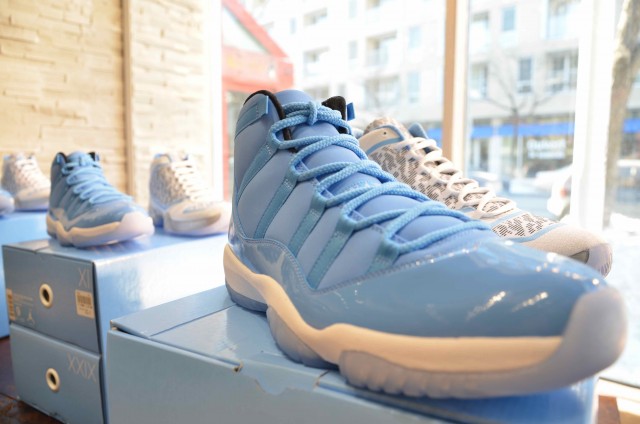 In comes Vingt-Trois. Vingt-Trois is a consignment based sneaker shop. The idea behind the shop is to bring the market in one spot. They will take the sneakers you want to sell, acting as a dealership by finding you a buyer using their shop.  In the three months they've been open, they've managed to build an impressive inventory consisting of big ticket Air Jordans, Nike, Nike SB (Skate Board), Adidas, New Balance, Asics, and more.
For their opening event this past November, they had guest appearances from sneaker culture icons: rapper Bun B, sneaker culture legend Mayor, and local DJ/OG sneaker aficionado Toddy Flores (owner of restaurant, Junior). Their opening has been a success and they plan on hosting many Sneaker Conventions where sneakerheads come in and buy, sell, or trade their goods while browsing through tables and tables of sneakers.

They also carry rare consignment items like BAPE (Japanese streetwear brand), Canada Goose x OVO (October's Very Own: Drake's record label) jackets, while stocking hats and apparel from brands like DOPE, DIEM, Retro Assassin, Montrealistik, Chaud Lapin, and Golden Duck. We're also expecting some Supreme NY consignmentin the near future. Check out their Facebook, Twitter, and Instagram for any upcoming sneakers or apparel.
2162 Rue Sainte-Catherine Ouest, Montreal, Qc H3H 1M7
(514) 933-6574