Whenever a new restaurant pops onto the radar, we are constantly hoping it's going to be something unique. 2014 has been a great year for that in Montreal. Our palates have been introduced to an array of cuisines and now, thanks to the Flores brothers (Jojo and Toddy),Julian Somera, and David Pendon, this time it's Filipino cooking at Junior Filipino in Griffintown. If you aren't familiar with Filipino cooking, it's food that has a mix of Malaysian, Chinese, and Spanish influence. Still not sure what that means? Think: saucy, savory, and comforting with a kick or two. But your best bet if you're still confused? Head over to Junior. ASAP. And go hungry.
The spot is vibrant and cozy, small in size but big in personality. They've decorated Junior with Filipino pride and maximized the tiny space with a little bar and some long tables, perfect for sharing with strangers or coming as a clan. The menu is also small and to the point, covering all the Filipino classics from starters to dessert. And as soon as you walk in, the aromas that hit you from the semi-open kitchen make you realize immediately that you've stepped into somewhere special. And really, REALLY delicious.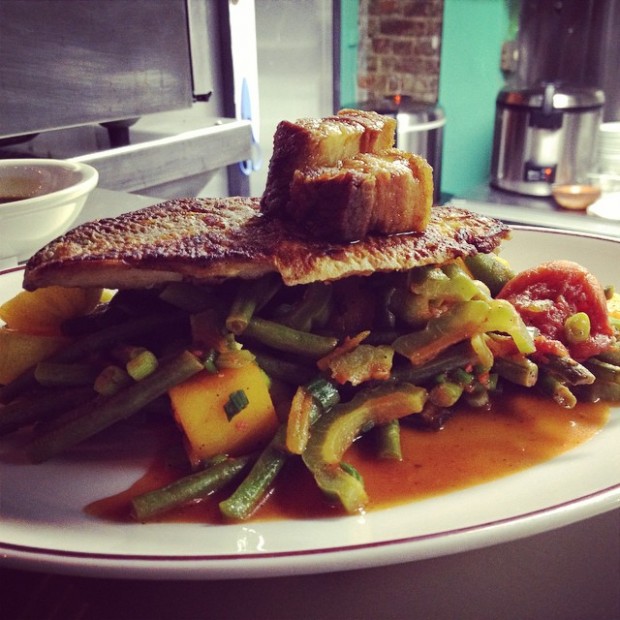 Right, so it's time to eat and if you're like us and have never eaten Filipino cuisine before, you might feel a bit unsure how to order. We almost think that it's better that way because the staff are excellent at recommending how and what to order for your dinner. And for your drink.
Start with starters or "bar snacks" like unreal dry garlic honey spareribs ($9) that hit your nose with the most unreal aroma even before you take your first bite. And when you order your mains, you're going to NEED to order one of the Adobo dishes ($13) because it's a Filipino specialty. And also because we may or may not have had dreams about their Adobo sauce for days after trying it. It is really that good. We'd also recommend trying a noodle dish like their chicken and shrimp Pancit ($11), which is a rice noodle dish that you'll hog because it's that yummy. And if you're enough people at the table, you'll get to order a little bit more because at Junior they aren't skimping on serving size.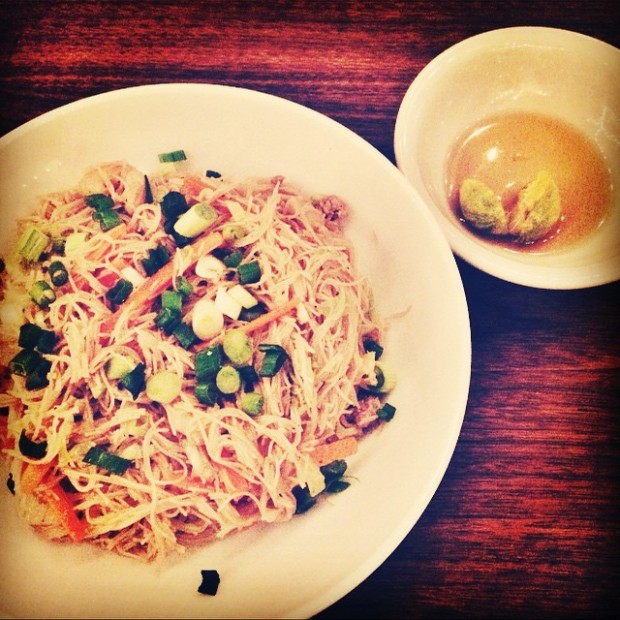 Now, it's important that any meal end with something sweet and boy did they reinvent the dessert wheel for us. Enter the cassava cake ($6): coconuty, sticky, and gooey heaven. It literally makes you smile with every bite. We're not kidding.
It's time to broaden your horizons and get your hungry self down to Junior. You can pop in for dinner Wednesday, Thursday, & Sunday from 5:30pm until 11:00pm and Friday & Saturday from 5:30pm until 12:00am. And soon they'll be satisfying your every brunch need. You can also creep them on Facebook, Twitter, and Instagram.
1964 Notre Dame W, Montréal, QC H3J 1M8
(514) 944-8636