East Asia is home to a plethora of sweets rich in tropical fruits, nuts, spices, tea, and even chocolate. Due to the miniscule number of Asian dessert spots in Montreal, we only get the chance to sample a small percentage of desserts available in Asia. We highly recommend these spots to try out for authentic East Asian flavours: Café Momo (bingsoo a.k.a Korean shaved ice), Zoe Desserts (Hong Kong-style desserts), Ca Lem (Asian-flavoured ice cream and sorbet), and Al & Jo (Thai rolled ice cream), to name a few.
For everything else, we found five online businesses that fill in the gap of what is missing in this city.
Unique-flavoured Macarons by La Petite Macaronette

Mannette opened her online macaron shop three years ago. She started her business out of pure love for the beauty and tastiness of French macarons. You can tell how much she loves them simply by the name of her business: a play on her name with the word macaron and the fact that she is petite like her macarons. La Petite Macaronette offers flavours that are used in Asian desserts – matcha, azuki (red bean), black sesame, pandan (vanilla of the East), ube (purple yam), mango, and more.

Also available are other unique-flavoured macarons such as hazelnut praline, crème brûlée, red velvet, pistachio, s'mores, tiramisu, etc. You can also custom design your macarons for any special event!

Ordering is done through DM on Instagram @lapetitemacaronette or Facebook. Minimum order is 10 pieces for $15. Pick-up is every Friday. It can be done either in Montreal or in Laval.

Often she makes extras, so be sure to check her social media pages on Thursday to reserve your box.
Cute Cakes and Tarts by Chère W

Annie recently started her online cake business Chère W (@cherewcakes) as a big step to pursue her dreams into the baking world. Seeing that beautifully designed cakes and tarts are becoming widespread in Asia, she brings this cute food trend here to Montreal. The flavours and designs are inspired from both French and Asian pastries.

Her cakes consist of three chiffon cakes layered with jams, pastes, and frosting all made from scratch. Some of her latest creations include dirty matcha cake, strawberry shortcake, and choco-banana cake. They can be made in either 6-inch or 7-inch diameter.

You can also customize the flavours and design of your cake such as this unicorn cake. This one is comprised of vanilla chiffon cake soaked in brown sugar syrup, milk panna cotta, milk jelly, and coloured whipped cream. The horn is made out of fondant.

As for tarts, there are three to choose from: totoro (black sesame ganache, white chocolate, matcha powder), choco-banana, and matcha-red bean. Each tart costs between $3-5; it comes in three sizes. Minimum order is $20, and you can mix flavours and size.

Orders must be placed 3 days in advance on her website (www.cherew.com). Pick-up is done at Lucien-L'Allier metro station.
East-Meets-West Desserts by Pure Cakes & Desserts

If you're fan of Patrice Pâtissier desserts, you will love the east-meets-west desserts made by Pure Cakes & Desserts (@pure_cakes514). Founder Jack is the chef and co-owner at Le Majesthé, a Taiwainese fusion restaurant in downtown Montreal. Trained as a savoury chef under chef Clement Chan at Torafuku, he is also passionate about making beautifully layered desserts in his spare time. One of his signature mousse cakes is the Matcha Lovers – four different textures of matcha complemented by the tartness of the raspberry jelly and freshness of the fruits.

Other mousse cakes include dark chocolate, s'mores, and passion fruit. Individual sizes are available for $6.

Chocolate bonbons filled with fresh fruit purées and black sesame crème brûlée are also on his online shop.

Orders must be placed 3 days in advance on his website (www.purecake.ca). Pick-up is at his restaurant Le Majesthé. You might be able to sample one of his creations at the restaurant. Be sure to call before making the trek!
Hand Blended Natural Tea and Sweet Treats by L'Essentiel Tea

Maya is a tea lover. She started selling her tea blends and sweet creations as a pop-up restaurant on Restaurant Day. Very recently, she opened her online shop L'Essentiel Tea. She is a strong believer that tea should be enjoyed naturally with little to no additives (no sugar and no preservatives).

Her tea blends combine a variety of tea leaves, flowers, spices, and freshly dried organic aromatics (lemon peel, ginger,…). Each blend is perfectly balanced without one overpowering the other. Tea leaves are either imported from Japan or locally grown here. Here we have a cold brew ceylon-darjeeling-lemon-rose blend, and an iced chai.

The baked goods are infused with tea and fresh herbs. You can order her matcha-white chocolate cake topped with sesame seeds, matcha cake with lemon glaze, hojicha (roasted green tea) madeleines, rosemary butter cookies, etc.

Also available is her matcha granola mixed with chia seeds, coconut, pumpkin seeds, cocoa nibs, and honey.

Orders are done through DM on Instagram @lessentieltea or by e-mail ([email protected]). Minimum order is 12 for the madeleines, 25 for the small cookies (20 for the large cookies), and 8 for the matcha cakes. Orders must be placed 3 days in advance. Pick-up is done at her home or anywhere in the Plateau.
Kaya (Coconut Jam) at Mamak Montreal
Mamak Montreal (@mamakmontreal) is co-founded by two Malaysian friends who enjoy cooking and have a desire to share their love of Malaysian food among the Montreal community. The Mamak, which refers to the Muslim Indian community, can also be seen as a culture in Malaysia. Mamak stalls are favourite hangout spots for the younger community due to the good affordable food and late operating hours (usually into the wee hours of the day). Mamak Montreal started off as a pop-up restaurant during Restaurant Day in 2015 and currently does Kaya (coconut jam) and Nasi Lemak on a monthly basis.

Kaya toast is a favourite breakfast item in Malaysia & Singapore, and is usually eaten alongside half-boiled eggs and kopi (coffee in Malay). Kaya (coconut jam) consists of four simple ingredients: eggs, sugar, coconut milk, and pandan leaves, double-boiled over low heat for an hour.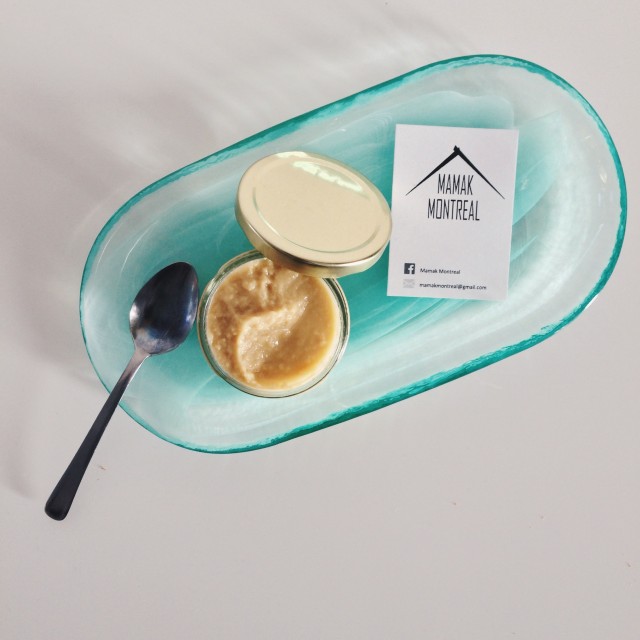 Each jar of kaya is priced at $6 for 250mL. Keep an eye on their social media pages to know the dates they are selling their kaya. Pick-up is done in the Plateau, downtown (near McGill and Concordia), or Côte-des-Neiges (near the Jewish General hospital).
Photos courtesy of Victor Yu (@randomcuisine) and the respective bakeries.