Montreal is a city built around a mountain. As such, we have a natural appreciation for climbing these monolithic stone mounts to get some incredible views. Mount Royal is just the tip of the iceberg when it comes to the gorgeous summit views we have access to with a reasonable car ride. None of that six hour drive to see that one great park in Saguenay nonsense: these are the great mountains that you can hike with a car ride of less than 1h30.
Easy Hikes
Parc National du Mont St-Bruno

Mountain is sometimes a relative term. And so it is for Mont St-Bruno, as what you are really doing is taking a leisurely stroll around a lake. Sure, there are other small trails that will lead you to lookout points of either the mountain or on one of the 5 lakes, but really the vast majority of people take a stroll around Lac Seigeurial with little elevation change. And that is perfectly fine, as it is a beautiful 7km walk in nature. If hiking is new for you, this is a great place to test the water in a beautiful setting. It is also only a 30 minute drive from Montreal in St-Bruno-de-Montarville. Map of Trails (page 6).
Quick Look: 6 trails, up to 8.8km long, max elevation 180m, many lakes, $8.50/person, 30 min drive
330 Rang des Vingt Cinq E, Saint-Bruno-de-Montarville, QC J3V 4P6
Mont Royal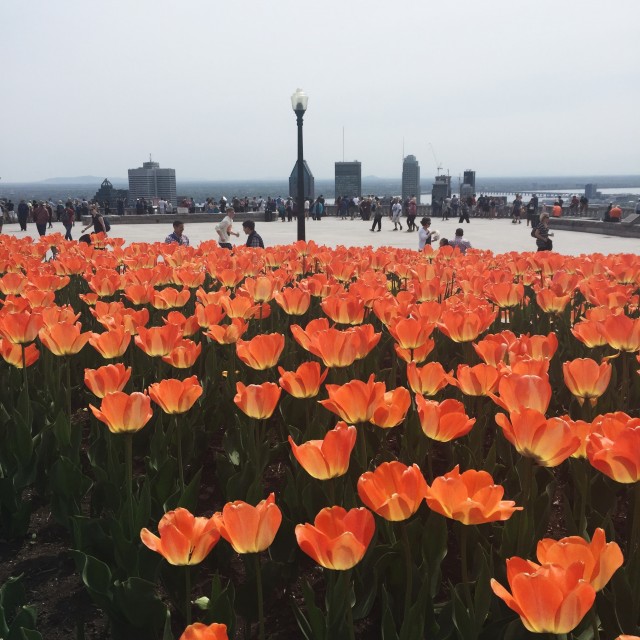 Mount Royal is a beautiful mountain and an island of green in our city's center. It has hundreds of crisscrossing paths all over, which allows someone to walk through the park for anywhere between 30 minutes to several hours. The nice part is that it is just so close! If you have never hiked Mount Royal, there are some essentials to see, including Beaver lake, the Belvedaire Lookout, the Cross, and the actual summit at 233m high. A short walk will give you a truly beautiful view of our city and its many bridges to the south. The hiking is still in the easy range as most paths don't have much elevation difference. Map of Trails.
Quick Look: Crisscrossing trails, max elevation 233m, Beaver lake, Belvedaire lookout, city center
1260 Remembrance Rd, Montreal, QC H3H 1A2
Mont Rigaud

The west is sorely lacking in mountain offerings below the Ottawa River. However, there is the cute little mountain called Mont Rigaud. Though the area had many troubles due to the flooding this year, it still sports a beautiful nature park centered on the mountain. There are two main trails of interest. You either go to the Cross or to the lookout. The Cross is accessible via the ski mountain which has crisscrossing trails of up to 3.7km one-way. On the other hand, the Lookout is accessible from the center-of-the-forest path behind the Sanctuary Notre-Dame-de-Lourdes. While both are beautiful, the lookout is certainly made to see the Ottawa River Valley in all its glory. Trails Map.
Quick Look: 2 trail areas, max elevation 190m, lookout on Ottawa River Valley, $2/person, 55 min drive
321 des Erables, Rigaud, QC J0P 1P0
Mont-Saint-Grégoire

Deep in apple picking country lies the singular bump that is Mont-Saint-Grégoire. It's rather hard to miss as it is the only hill among the thousands of acres of farmland and apple orchards. Climbing it is quite different from the other mountains ranked easy. In fact, it's only really easy because it's a short 2.5 km loop. Be prepared to climb the natural equivalent of steps because much of the trail going up is steep. It's worth it though, as the summit affords a beautiful unobstructed view in every direction. The descent, though, is less so, taking you through the old stone quarry with 100 ton rocks strewn around the path. Make no mistake: you will sweat going up, which makes conquering the mountain that much more satisfying. Trails Map.
Quick Look : 6 trails, 2.5km loop, max elevation 260m, 3600 summit view, $4.75/person, 37 min drive
16 chemin du Sous Bois, Mont-Saint-Grégoire, QC J0J 1K0
Intermediate
Mont Rougemont

Mont Rougemont is a beautiful mountain mostly used for apple orchards and maple syrup cultivation. If you've ever driven along autoroute 10 at night, then you have surely seen the giant glowing cross to rival Montreal's. It sits atop the 360m elevation of one of the peaks of Mont Rougemont. It can also be accessed on foot via a gravel road at the end of Chemin du Moulin. The nicer hike, however, is over at Cidrerie Michel Jodoin, who maintain a beautiful 3.6km loop and lookout on their side of the mountain. It's another short hike, though several sections are quite steep. The forest itself is beautiful and the path is well marked, though somewhat wild. As a bonus, solve the 5 questions along the way to get 10% off anything you buy at Cidrerie Michel Jodoin. Trail Map on site.
Quick Look: 3 trails, 3.6km loop or 2.8km one way, max elevation 360m, $3/person, 46 min drive
1130 Rang La Petite Caroline, Rougemont, QC J0L 1M0
Mont Saint-Hilaire

Mont Saint-Hilaire is one of the most impressive mountains near Montreal. It has been maintained for the last 45 years by McGill University as a nature reserve, so the paths are beautifully tended and yet right in the middle of the forest. When recommending a mountain for anyone interested in hiking, this is always first on people's list. That is because it can be easy or work up a crazy sweat, but either way, the view from one of the three summits is undeniably gorgeous. You can see the city below along the Richelieu River as well as Montreal in the distance. It is a very popular mountain, so don't expect to be alone with nature, unless you pick one of the two hard paths. If you dislike a long drive but are looking for a long hike, this is the place for you. Trails Map.
Quick Look: 7 trails, 25km of trails, max elevation 416m, 3 summits, amazing view, $7/person, 49 min drive
422 Chemin des Moulins, Mont-Saint-Hilaire, QC J3G 4S6
Morin Heights

Just an hour north of Montreal is the small town of Morin-Heights. It is surrounded by mountains and lakes and it is beautiful. Thus, hiking around the area is also beautiful. The region includes three areas of trails, the Morin-Heights mountain area, the Bellevue mountain area, and the Rue des Bouleaux area which delves deep into the wilderness. The Morin-Heights area is by far the most impressive, as it rises above all the surrounding mountains. The view from its peak is an incredible thing. However, the work needed to get there is sure to break a sweat. Though not as hard as many mountains, if you do a couple of trails, you can make an entire day of it. Trails Map.
Quick Look: 27 trails, 30km of trails, max elevation 460m, 3 regions, 5 peaks, many lakes, free, 1h drive
232 Rue Allen, Morin-Heights, QC J0R 1H0
Hard
Parc Naturel de Sutton

Sutton is at the limit of the 1h30 mark but it's definitely worth the wait. The drive is up and down and so is the hike. Walking the trails, you'll climb and descend more times than you realize. The slope can be intense and as such the hiking is also quite difficult. However, as these things are, the harder the hike, the more amazing the view. Looking out upon the US/Can border from the top of the 968m of Round Top is purely amazing. If the view and silence up there do not inspire your love of nature, then no hike will! Just be sure to wear the right gear because some of the rocky trail can be dangerous at times. Trails Map.
Quick Look: 6 loop trails, 52km of trails, max elevation 968m, 6 summits, view of USA mountains, 1h25 drive
900 Chemin Réal, Sutton, QC J0E 2K0
Parc National du Mont Orford

This park includes distinct mountain regions: the Mont-Chauve side and the Mont-Orford side. Both are intense hikes requiring lots of water and the right footwear. But the views… even the least of the summits, Pic de la Roche Fendue, affords an awe-inspiring view of nature at its most beautiful: Lake Stuckley in the background and countless kilometers of forests around. It is, however, not for the faint of heart. The more difficult trails, such as the Sentier des Cretes, involves near constant climbing on mismatched rock stairs with few level reprieves. That route will bring you to three separate summits, each more incredible than the last, culminating in Mont Orford's 853m summit. If hiking is your cup of tea and you are in shape, then here is where you need to be. Trails Map.
Quick Look: 8 trails, 80km of trails, max elevation 853m, 4 summits, unbelievable views, $8/person, 1h21 drive
3321 Chemin du Parc, Orford, QC J1X 7A2
Parc National du Mont-Tremblant

Though technically right out of the 1h30 range according to Google, we're willing to assume no one will drive 100 the whole way. It simply needed to be on any Montreal hiking list, as those who have climbed it feel how great an achievement it is. It is tough, it is long, but once on top of the mountain itself, you will take the victory walk called 360 and get to see far and wide in every direction. And that is only Tremblant itself. There are 82 km of trails throughout the National Park. Each leads to a different peak or different lake. And it is all gorgeous. Along with Orford, Tremblant takes the hiking crown around Montreal. Trails Map.
Quick Look: 20 trails, 82km of trails, max elevation 930m, achievement worthy, $8/person, 1h40 drive
3824 Chemin du Lac Supérieur, Lac-Supérieur, QC J0T 1P0
The North and East are full of mountains and hiking paths. Certainly, there are many that are missing from this list, and we would love to know all about them. If you have a favourite that we have left out, tell us about it! We love a challenge… that we don't have to drive several hours to get to. Ouareau Forest Regional Parc? Mont Saint-Sauveur? Mont Bromont? Tell us all about your favorite hiking spots with a view!
Photos by Jonathan Brouillette (@darksteelangel) – featured image included, Dahlia Merlo (@dahllii), and the respective mountain trail websites.