February is our shortest month, so let's make the most of it. There is never a shortage of cool, interesting, and exciting shows to see in this beautiful town. With Valentine's Day around the corner, you may need some inspiration for an original night out. We can help plan your romantic evening with intimate and passionate dance spectacles. Whatever your fancy may be, if you're not going to be skiing very much this month, now is the time to sit-in at a venue that will keep you warm and entertained. Here are some shows that you should definitely be checking out this February.
Let It Be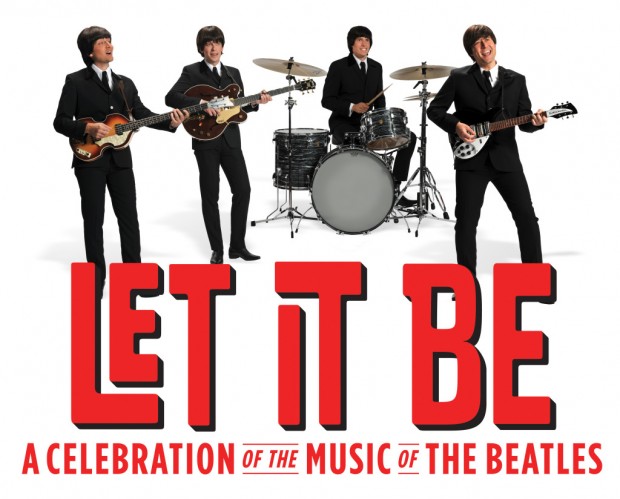 Type of Event: Theatrical Concert
When: February 6
Where: Places-des-Arts – Salle Wilfred Pelletier
Tickets: Start at $50.55 [Buy Tickets]
If you're a fan of the Beatles but never had a chance to see them live because you weren't born in the 50's, you need not worry! Let It Be – A Celebration of the Music of the Beatles is an international touring sensation that will be stopping in Montreal for a one-night-only show. This theatrical concert has been getting some pretty rave reviews in London, where it began in 2012 at the Prince of Whales Theatre, and even had a very successful stint on Broadway. The music covers Beatles songs from the band's beginning and on into their Beatlemania days. If you're looking to get transported back to a time where you couldn't watch your favourite band on YouTube, head to Places-des-Arts to get a glimpse of what made this band so exciting to watch.
Forever Plaid

Type of Event: Musical – Theatre
When: February 1 – 22
Where: Segal Center
Tickets: Regular tickets $50 (senior or student discounts may apply) [Buy Tickets]
If you have a soft spot for pitch perfect harmonies, fun and quirky comedies, or men in cumberbunds, Forever Plaid is very much for you. This show was written and directed originally by Stuart Ross in New York in 1990. The show has become an international hit and will be showing at the Segal Center this month. The story conveniently ties in with the 50's and the Beatles: A male quartet a cappella group dies in a car crash on the way to their first ever show. Their car collides with a bus filled with catholic schoolgirls on their way to see the Beatles' first ever television performance on The Ed Sullivan Show. Forever Plaid is the epitome of clean-cut humour and an interesting look back at what boy-bands used to look like. It's sure to get you laughing and toe-tapping at the same time.
Sadler's Wells – Milonga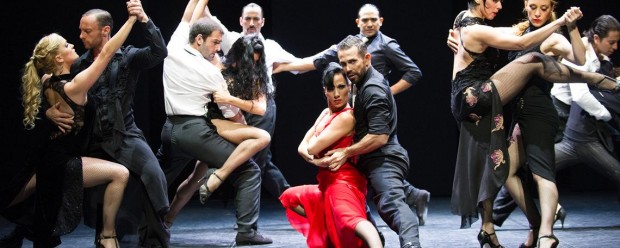 Type of Event: Dance
When: February 17 – 21
Where: Hall – Théâtre Maisonneuve
Tickets: Start at $40.50 [Buy Tickets]
Belgian-Moroccan choreographer Sidi Larbi Cherkaoui, part of the Sadler's Wells Theatre Company, is coming to this season's Danse Danse series to present an epic Tango event, Milonga. Cherkaoui's resume is impressive: he has choreographed such productions as Cirque du Soleil's Michael Jackson – ONE and Kurios and is the creator of works such as Sutra and Babel (words). If you're looking for passion and entertainment value, Milonga will deliver that and so much more. This is a refreshing re-imagining of what Tango is (and what it can be). You'll be Tango-ing all the way home.
We Are Not Alone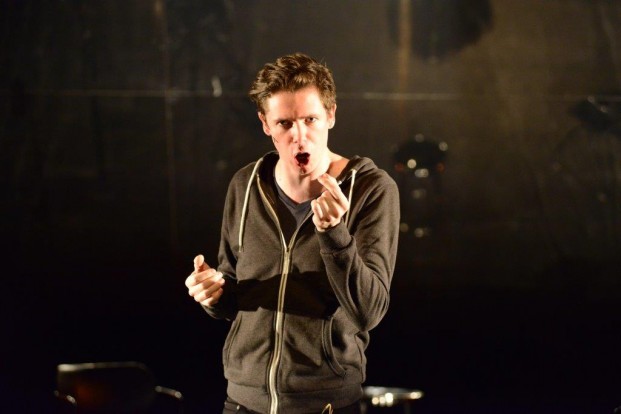 Type of Event: Theatre (One-man-show)
When: February 22 – March 15
Where: Segal Center
Tickets: Regular tickets $50 (senior or student discounts may apply) [Buy Tickets]
If you've ever been curious about intelligent life forms on other planets, you are part of the majority of people who wonder at the possibilities of the universe. If you've obsessed over why said intelligent life forms haven't visited you yet, We Are Not Alone may be the visit you've been waiting for. This is an exciting new work coming to the Segal Center this February. This one-man show, written and performed by Damien Atkins, and directed byChris Abraham and Christian Barry, is an in-depth look at Atkins' borderline personal obsession with all things UFO and extra-terrestrial. The most interesting aspect about this show is surprisingly not the UFOs themselves but the culture that surrounds them. Atkins is a master when it comes to playing all of the different characters he portrays. If you are looking for a cool show that will get you thinking, this is definitely worth checking out. (Note: You should also check out Atkins' blog,where he writes about attending the 2014 International UFO Congress in Arizona. It's pretty entertaining.)
Montreal Symphony Orchestra – featuring Mika

Type of Event:    Classical concert – Recital
When:               February 10 – 12
Where:               Hall – Maison Symphonique
Tickets:             Start at $43.20 [Buy Tickets]
The Montreal Symphony Orchestra (MSO) is starting the year off with British singer-songwriter and pop star Mika, who's sold more than 9 million albums since his debut record Life in Cartoon Motion in 2007. Mika will be performing many of his hits with the full accompaniment of the MSO. Mika's hits include "Grace Kelly," "Relax, Take It Easy," "Love Today," "Big Girl (You Are Beautiful), and "Kick Ass (We Are Young)," to name a few. He has an exceptional vocal range and his music lends itself well to instrumental accompaniment. This classical concert is part of the MSO Pop series, which brings together local and international popular musicians with the symphonic style of the orchestra. It's one of the ways that MSOoffers up original performances that are refreshing and pleasing to a broader fan base.If you're looking to hear pop songs with a classical twist or if you would just like to see the MSO in action, this concert may be an excellent introduction to both musical powerhouses involved.
The Medea Effect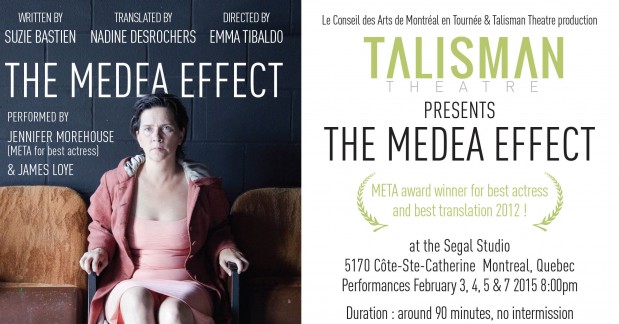 Type of Event: Drama
When: February 3 – 7
Where: Segal Center
Tickets: $18 [Buy Tickets]
You may be in the mood for some drama, so let's delve into the intense and psychologically complex drama entitled The Medea Effect. This is a beautifully sculpted play written by Suzie Bastien, beautifully adapted from French by Nadine Desrocher. The story presents us with Ada, an actress (played by Jennifer Morehouse), and Ugo, a director (played by James Loye). The performances are powerful and the story deals with the themes of loss and abandon. Ada performs a self-analysis of the cliché roles we take on, or the roles that take us on. There is also an interesting power struggle that plays out between the two characters. This play picks at your subconscious while unveiling the scars and inner torments of Ada and Ugo. Although it is intense, it reveals the innate pain that comes with the human experience.
Featured image: Paul Coltas