How do we celebrate weekends in Montreal? With weekend brunch of course. And if you're celebrating something, then it's imperative that you do it right. How can you make sure you do weekend brunch justice you ask? Go visit Le Cartet on McGill in Old Montreal. They know how to do brunch and they like to do it up big time. Let us elaborate.
Walk into the big open, bright space and immediately your nose will take in the drool-worthy smells and your stomach will let out a grumbly moan that you'll try to conceal. Luckily, even when it's busy on the weekend, the line moves quickly. As you're being lead to your table, you'll also notice something else: everyone is smiling while they're chowing down. That's because their food is delicious but also because they're being properly caffeinated. In order for any morning, mid morning, afternoon (that obviously depends on when you brunch) weekend meal to be successful (actually for any day to be successful, really) it starts with coffee. At Le Cartet, they're taking great pride in serving delicious Illy coffee, however you want it (including with almond milk).  So, yeah, you're starting off well.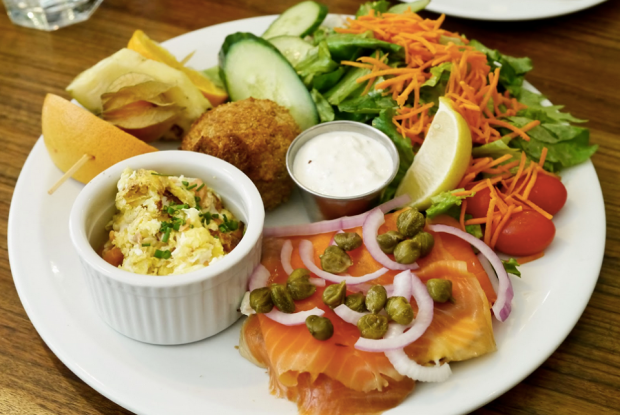 Their menu is extensive which is great and challenging all at once. They've separated it into two main sections:  brunch plates or regular brunching options. Their brunch plates (which are massive in both size and flavour) come with an amuse bouche and a glass of fresh OJ (you can swap your OJ for a mimosa for an extra $6). The options range from Brunch Santé, complete with eggs, yogurt, granola, fresh fruit, and cheese, to Brunch Sucré, perfect for the sweet breakfast lover, to a Brunch de l'Atlantique, which has eggs and smoked salmon in a variety of forms. If you choose not to do a brunch plate, they've got all the usual suspects like three minutes eggs, petit dejeuner, smoked salmon bagel, and a yogurt parfait. And the staff are wonderfully accommodating too: want to swap something or need gluten free toast? They've got you covered, no problem. Hooray!
And if that's not enough, you can also do a little gourmet shopping while you're there and stock up top quality chocolate, nibbles, coffee, and more. Who doesn't love weekend shopping (especially for our stomachs)?
It's an absolute fact that the food makes the brunch, so if you're serious about brunching, then Le Cartet is the place for you. You can check them out on Facebook and Twitter and plan your brunching by consulting their menu online. Isn't that an EGGSellent idea!
Le Cartet Boutique is open Monday to Friday 7:00am until 7:00pm and 9:00am until 4:00pm on the weekends. You can go there for noms until 3:00pm on weekdays and until 3:30pm on weekends.
106 Rue McGill, Montréal, Québec H2Y 2E5
(514) 871-8887