The food truck season in Montreal began on May 1 and runs until October 5, attracting long lines and large crowds of people. Their plates feature novel combinations of different flavors and twists on classic dishes. Be prepared to pay around $5 (or more) for each dish of local deliciousness.
The food trucks can be found all around Montreal at designated locations seven days a week, and a daily list is published and updated on the city's official website. The trucks are authorized, though not obliged, to serve customers from 7:00am to 10:30pm. Technical problems may also arise, so always be sure to check out the truck's website and social media for the latest updates on the food truck's status.
There are fortunately golden opportunities for you to taste all or most food trucks at once. On the first Friday of every month (aptly named First Fridays) at the Olympic Stadium at the Esplanade Financière Sun Life, most of the food trucks are stationed and will be serving food to customers from 4:00pm to 11:00pm. Bouffons Montreal will also take place during the Just for Laughs Festival, where there will be many food trucks from noon to 11:00pm at Place des Festivals every day from July 13 to July 27.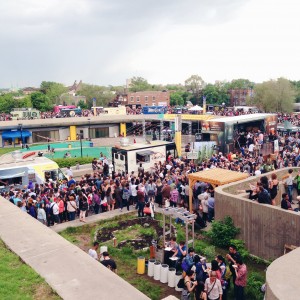 With so many food trucks, it's hard to decide which to choose when hankering for a savoury meal on the go. We've prepared a guide so you know which trucks not to miss.
Café Larue &

Fils

 
Some of the best coffee drinks in Montreal can be found at this truck. Café Larue & Fils is happy to serve cappuccinos, espressos, or other caffeinated favourites. This vintage-looking blue truck is hard to miss!
Camion

Au Pied de Cochon
Au Pied de Cochon is one of Montreal's finest dining establishments, and the restaurant's truck succeeds in delivering dishes of the same exquisite quality. They've got sweet and salty dishes, often made with delicious pork, like their infamous poutine foie gras or their beigne cochon, a doughnut sandwich with smoked meat, ham, and pig's tongue.
Chaud

 Dogs
Go beyond ketchup and mustard in your hot dog and try adding carrots, daikon, and coriander. Chaud Dogs is known for its hand-crafted hot dogs that are topped with unique ingredients. Their Vietnamese hot dog, containing the aforementioned ingredients, is especially delicious. For a trip down memory lane, try their corn dog with jalapeno and cheddar.
Crémy Mobile
After eating a hot dog as your main course, how about dessert? Crémy Mobile offers sweet treats that will delightfully conclude a "food truck only" meal. People say that there's always room for dessert, and we hope that's true, because their five-inch glazed donuts are irresistible.
Le Quai Roulant
Le Quai Roulant  is sure to please those who prefer fish over donuts. Customers can enjoy their golden fish and chips that are light and deliciously crunchy. Their crispy crab cake is another favourite. Hungry people will definitely stop you and ask you where you've purchased such a mouth-watering meal.
S

andwicherie

Zoe's
Sandwicherie Zoe's offers sandwiches and side dishes that are out of the ordinary. Their sloppy jane is as sloppy and succulent as it gets, filled with layers of warm and tender lamb. The truck also offers fried zucchini and spicy fries with tzatziki and feta cheese that provide a powerful kick of flavour.
Phoenix 1
Sandwicherie Zoe's offers delicious sandwiches, but Phoenix 1 offers just as tasty naanwiches. This truck rolls fresh ingredients in a wonderfully crackling and large piece of naan bread. Many foodies love their Tandoori chicken naanwich with refreshing cucumber and carrot.
Pas

d'cochon

dans

mon

salon!
Pulled pork. Piece after piece of steaming pulled pork in between two sandwich buns toasted to perfection. Pas d'cochon dans mon salon!  is perfect for anyone with a pulled pork craving. They also offer several side dishes, such as a cool and fresh gazpacho soup, that perfectly complement their staple dish.
Roux
One of the best summer feelings in Montreal is stumbling upon a food truck when you least expect it, and we were so glad to have stumbled upon Roux. Their beef sandwich is a fantastic combination of flavours with cream cheese and grilled peppers. They also serve golden fries with homemade spicy ketchup and curry mayonnaise.
The other food trucks definitely deserve as much recognition with their equally unique and delectable dishes. Tell us about your favourite food truck in the comments section below.