New Year's Eve is always tough. You either love it or hate it, but chances are you don't want to be sitting at home alone when the ball drops. If you're down to go big this year, we've got the hottest parties in the city lined up for you. Now all you have left to do is choose a dress or suit. Let's say bye to 2016 (good riddance) in style!
Moomba 

For the Lavalers who don't want to venture into Montreal on NYE, or for Montrealers who want an awesome venue with equally awesome parking options, Moomba is for you. This year's party won't break the bank; tickets are only $39. Canapés will be served all night and are all you can eat, so don't come too full off dinner! Dance to the beats of international DJ Pitbull Danny West & Stef Agostino + Geses.
Buy tickets: moombatheater.com
Hyatt Regency Montreal

New Year's Eve at the Hyatt Regency Hotel is kind of a staple in Montreal. Going strong for 6 years now (and selling out every time), you know it's going to be a good night. Get a 3-course meal and open bar until 2am starting at $160, a 3 hour open bar starting at 11pm (doors open at 10pm) starting at $85, or general admission starting at 10pm starting at $50. If you don't know where to crash, lucky enough the Hyatt is a hotel with all the accommodations you need.
Buy tickets: nyemontreal.ca
L'Auberge Saint-Gabriel

Get your party hats on and dress your best at Auberge Saint-Gabriel's La seconde avant minuit party extravaganza. Go for dinner and enjoy your evening for $165, or get a ticket inside for $40. The event promises models, bottles, moguls (hey, that rhymes), and fashionistas. Any event in collaboration with Veuve Clicquot and Belvedere Vodka is sure to impress.
Buy tickets: lasecondeavantminuit.ca
Bord'elle

If you haven't been to Bord'elle yet, NYE is probably the perfect time to go. They are having a Gatsby themed party that is sure to knock your socks off. If it's anything like their opening event (complete with burlesque dancers and beautiful flappers), then it is definitely going to be a hit. Jazz performances, burlesque, acrobatics, flappers, you name it! Tickets start at $60 a person and packages are available to make your night that much more fabulous. $1000 will get you 6 tickets, party favours, your choice of a 750ml bottle of Grey Goose or Hendrix Gin, and your choice of a Moet Chandon or Veuve Clicquot bottle. More package options are available. Check their Facebook page for more info.
Buy tickets: concierge@bordelle.ca
L'Atelier d'Argentine

L'Atelier d'Argentine is a venue torn out of the heart of Buenos Aires. The party will be hopping on Crescent Street with the best music in house, R&B, Mashup, club anthems, and top 40. Tickets start at $60 and limited VIP tables are also available. This venue has 2 floors with a lively and energetic atmosphere perfect for ringing in the new year. Take advantage of their party favours to make this night a memorable one!
Buy tickets: montrealnewyearsevetickets.com
New City Gas 
New City Gas is pulling out all the stops this year with international DJ MAKJ along with Sultan + Shepherd on New Year's Eve. Presented by Dom Pérignon (champagne flowing all night) and Produkt, this is a night you won't soon forget. Tickets start at $32.50 for general admission and will only cost $75 for the VIP treatment. Doors open at 10pm for an unforgettable night listening to your favourite EDM.
Buy tickets: newcitygas.electrostub.com or allanah@produkt.ca for table reservations
Somwhr

Somwhr Liquor Lounge is throwing their Stardust party on New Year's Eve. Presale tickets start at $75 and include open bar from 9pm until midnight. Tickets at the door before and after midnight are are also available, with a sweet discount after the ball drops. You can reserve tables for groups of 8 or 10 to make this a night you will truly remember.
Buy tickets: call (514) 945-7071
W Hotel

The W Hotel is throwing a New Year's Eve party complete with Montreal's musical talent, showcasing DJ Toddy Flores, Jojo Flores, Quest, Fadel, and Donald Lautre. The Plateau Lounge and the Wunderbar will have LED lights and music spinning from Montreal's favourite DJs. Doors open at 9pm so you can get the party started as early as you'd like.
Buy tickets: etreavectoi.com
Old Montreal Celebrations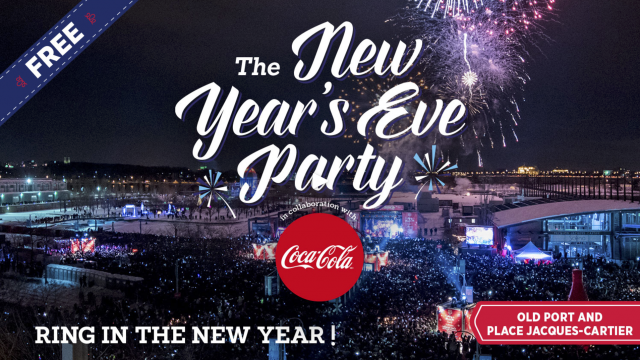 Coca-Cola is throwing another New Year's Eve party in Old Montreal but this one is going to be bigger and better than ever. To celebrate Canada's 150th anniversary, this year's party is going to be incredible. The country's most popular artists will be gracing the stage and the final countdown will end in incredible fireworks!
Buy tickets: FREE!
Featured image by Louis Longpré / Montréal en Fêtes 2015.