Grand Prix weekend in Montreal is like having dessert before supper. Summer has just started and yet we are treated to one of the biggest party weekends in Canada. Revelers from around the world flock to our newly thawed city to embrace our Euromerican style and devilish taste in food, drink, and fun. The city is transformed for one gloriously long weekend to party central and we for one don't want to miss a thing. If you want to come along on this magical ride, then pick a day, pick a party, and lose yourself to Grand Prix weekend. Beardyman says it best: "Eat, Sleep, Rave, Repeat."
Thursday, June 4th
While the Gilles Villeneuve track is having an open house, the city is chomping at the bit to begin its festival weekend. As such, a good amount of restaurants and clubs are hosting launch parties on Thursday.
Santos Official Terrace Kickoff Party

Launching its terrace with a Beach House themed party, Santos, the amazing tapas restaurant and bar will have us all dancing in the open air of the Old Port. Starting up at 5:00pm for VIPs with DJ Miss'Ness, it opens up to the masses at 9:00pm with DJ Toddy Flores. Prepare for Barcelona to invade our Old Montreal via the beach houses of the Florida Keys.
Jack Saloon's Cool Rebels Black Carpet Grand Prix Party

In anticipation of F1 weekend, Jack Saloon in the Old Port is having a black carpet kick-off event with multiple DJs and live performances on their beautiful multiple levels. The burlesque cowboy themed restaurant will be joined by Moet & Chandon for this VIP only until 9:00pm party where celebrities are sure to make an appearance. The night will be full of music and champagne as multiple DJs will rock the main floor while live music including Juno winning Steve Hill and Les Respectables will rock the den.
Time Supper Club's Anniversary and Feed a Child Fundraiser

Time supper club is starting up the weekend with its anniversary celebration and fundraiser for the Feed a Child foundation. Teaming up with ONEXONE and Belvedere Vodka, the wonderful people at Time have decided that proceeds for the entire weekend are going to Feed a Child. When you see their amazing line up for the rest of the week, you too will see why that is an impressive feat of charity. But do not assume such parties are dull, Time is often celebrity central and for good reason.
Friday, June 5th
Assuming you were good Thursday and went to work Friday, then it's time to truly let loose. The F1 cars will be on the track practicing and qualifying while we find ourselves one of the many incredible parties to attend.
Infiniti Canada Grand Prix Soiree at the Ritz-Carlton

Every year, Ritz-Carlton hosts one of the biggest parties for the Grand Prix. Hosted by Infiniti Canada and Red Bull Racing, the party will start from 7:00pm and run until 2:00am. The party will kick off with champagne and food stations from the Ritz's own Johnny Porte until 9:00pm. After that it's dessert stations and open bar all the way until closing. As an added bonus, Red Bull Ambassador and F1 champion David Coulthard will be in attendance. Act fast because these tickets are sure to sell out.
Music Loves Fashion with Joe Jonas at Time supper club

For its Friday night event, Time supper club will have Joe Jonas hosting the Music Loves Fashion party in conjunction with Moet & Chandon. What goes better with Grand Prix than champagne, fashion, and sexy men? What about more sexy men. Dustin Penner of the L.A. Kings and Willy Monfret and his aqua blue eyes will also be gracing the party dressed to impress. The party starts at 8:00pm and runs all night.

The one thing our city sorely lacks on a regular basis is the block party. Santos delivers with its Friday night block party: Brooklyn style. Complete with beer pong, ping pong, and probably actual Pong on Atari, the party is sure to attract a very fun crowd. Live art will be showcased throughout the party along with a flurry of shops in small booths. The party will go from 2:00pm to midnight on Friday.
Saturday, June 6th
On the second day of Grand Prix practice runs, the pre-race day parties are in full bloom. Work is a distant mirage and Montrealers venture out in droves to enjoy our city's nightlife.

At the corner of Peel and St-Catherine, you will find the Peel Paddock festival. On Saturday afternoon, the street corner will explode with activity as the Belvedere Terrace will be hosting a Matinee Brunch. Starting at 1:00pm for the brunch menu and continuing after 5:00pm with bottle service, the open air party is sure to draw huge crowds. With DJs on hand and Chef Jason Nagy on the raw bar shucking oysters, passerby will be as jealous as can be when they see you taking full advantage of Grand Prix's downtown revelry.
Time Supper Club's Grand Prix Party hosted by Lord Scott Disick

For its final night of Grand Prix parties, Time has recruited (self-proclaimed) Lord Scott Disick of Kardashian fame. Have you ever met a lord before? We haven't but we suspect they're just a little bit better than the common rabble. Dustin Penner will also be returning for a second night of revelry. Time is known to attract many famous faces so be sure to check this one out.
Muzique's The World is Yours Party hosted by Niykee Heaton

As one of Montreal's best clubs, it would be a shame not to mention Muzique's lineup for the Grand Prix weekend. In particular, their Saturday night party hosted by gorgeous singer/songwriter Niykee Heaton. Used to hosting over-the-top parties with top celebrities of the party scene, Muzique's event is sure to be a killer.
All Weekend
The race itself starts and ends on Sunday, but some events will have been going strong for days. These parties take full advantage of Grand Prix weekend to go all out, all week.

Beginning on the 5th and ending the 8th, Pandora's Box is a four day party for the ages hosted at Pandore in the Cartier des Spectacles. Known to be frequented by driving teams and often by invite or table reservation only, this annual event is always a hit. Sponsored by Belvedere Vodka and Moet & Chardon, the bar will be pumping out amazing drinks. The party will peak on the 7th where THE CODE 20 will be hosting the Grand Prix team's event. For racing fans, this is not to be missed.
Le Richmond's Grand Prix Weekend

As we've previously said, this restaurant has an amazing space. Any party in this industrial chique place is sure to impress in their inside-outside terrace. Thursday is The Kick-Off party on Le Richmond's terrace sponsored by Grey Goose going from 4:00pm all the way to 3:00am. Lanson Champagne then hosts Friday's Gentlemen's Club. It's all about comfort as valets tour the restaurant serving Rosé Champagne. Finally, Sunday is the race day party with Veuve Clicquot. Join them on the terrace to watch the race and enjoy the scene long into the night.

Describing a weekend in Montreal without seeing which world famous DJ is playing at New City Gas just isn't possible. Grand Prix weekend is no different. Thursday will see the Netherlands' Nicky Romero, famous for songs like Toulouse and I Could Be The One featuring Avicii. Friday will see a double bill of Carnage and the ageless Pete Tong. Finally, the beautiful duo that is Nervo will provide intense beats for Inifiniti Canada's Grand Prix Weekend Party on Saturday.
Street Festivals
Grand Prix Festival on Crescent

Crescent truly comes alive on Grand Prix weekend. Jam-packed from Saint-Catherine to De Maisonneuve, the Grand Prix Festival showcases all things F1. The most amazing cars will be on display. Vendors will be trying to sell anything mildly associated with racing. But best of all is the free DJ and live performers on two stages sprawled along the street. Beginning Thursday, expect heavy foot traffic in the area, only abating on Sunday.
Old Montreal Celebrates Grand Prix
Old Montreal is nothing if not a foodie paradise. For Grand Prix weekend, it has embraced this identity as it creates the F1 Foodie Zone. St-Paul street will be transformed from Thursday the 4th to Sunday the 7th between Bonsecours and Saint-Pierre with 25 different party terraces. DJs will be scattered about playing summer inspired beats perfect for terrace culture. Furthermore, gourmet pop-up stations will be placed around Place Royale along with, among other things, a tequila tasting station. While you take in the food, drink, and music, enjoy three private car collections scattered on St-Paul and in the Bonsecours Parking Space.
As with the other Block Parties, St-Laurent will be closing sections of its street up near Little Italy to celebrate the Grand Prix. Though not as intricate as Monkland or Crescent, it will feature on-site music, a flurry of terraces, and food by the carload. Not to mention exquisite luxury cars on display.
Monkland Village Grand Prix Festival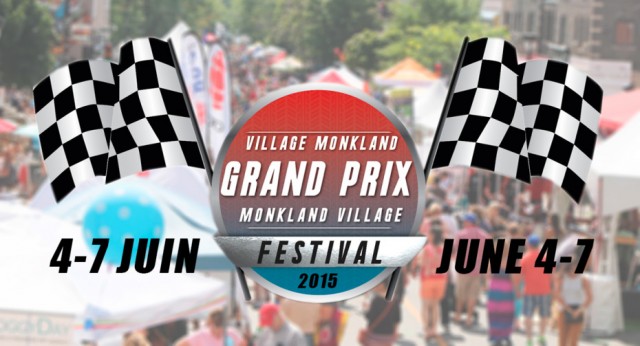 Monkland Village Productions pulled together a great new Grand Prix Festival last year. This year, it has upped the ante and expanded to a full Thursday to Sunday festival. With as many stages as Crescent, this Block Party on Monkland Avenue will mirror its older brother with DJ's, live music, classic cars, and bar terraces open until 11:00pm. What Crescent won't have is the food trucks scattered throughout the eight blocks of festivities between Cavendish and Girouard.