When offered a glass of bubbly, there are very few people who would refuse. Especially when it's top quality like Champagne Nicolas Feuillatte. But how often do we actually order a glass of champagne with our dinners? Not often. So Champagne Nicolas Feuillatte (CNF) paired up with 6 Montreal restaurants to show just how versatile bubbly really is. And no, versatile doesn't mean New Years Eve vs. big birthdays vs. poppin' bottles. On the contrary, CNF X'ploration Series set out to showcase just how well champagne pairs with different dishes across different cuisines. Winning.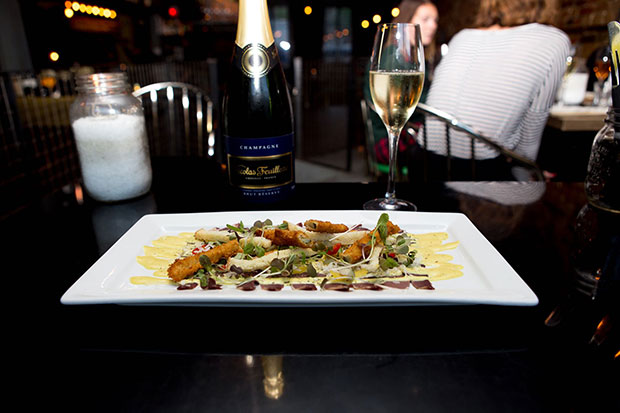 Who's participating, you ask? Vallier, Notkins, Communion, Le Slang, SuWu, and La Champagnerie. The good news: they're all serving up their signature dish with a glass of CNF Brut for a fixed price. Sadly though, each restaurant is doing it for one week only. Vallier and Notkins have already had their special. But worry not, because there are 4 restaurants still left to visit.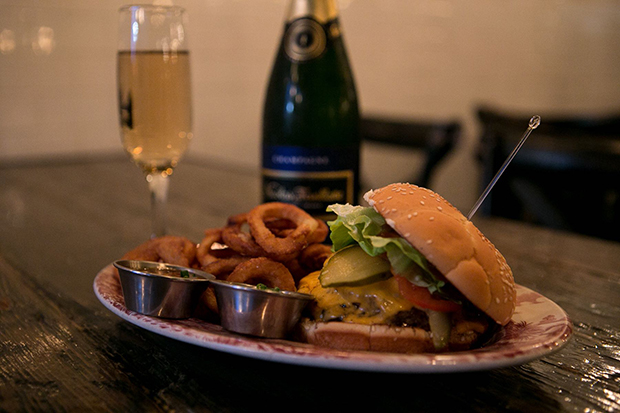 Now, because we consider ourselves lucky, this week we got a sneak peak at one of the upcoming restaurants' offering: Le Slang. If you haven't heard of Le Slang, it's the new kid on the block on Monkland and it's serving up creative and exciting food in a retro-industrial space that you wouldn't expect to find in the area. After looking at the décor or the bar and taking a peek at the menu, you get why it's called a Labo a Manger.
Now back to the meal. Let's start with the champagne. The bartender put on a bit of a champagne show. He poured a bit in, then added liquid nitrogen to REALLY cool down our glasses. Is there anything better than freezing cold, light and crisp champagne? No, we didn't think so either. Le Slang paired the flute of Champagne Nicolas Feuillatte Brut with their signature Firecracker Shrimp – so named for their zingy red pepper sauce – a real ying/yang effect with the freezing cold bubbly. It's always nice when someone has already thought out what you'll eat and what you'll drink with it.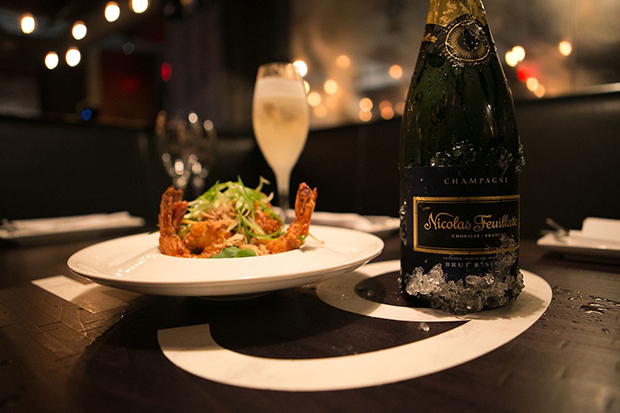 Le Slang's special is on in one week, running from November 2nd to November 8th. To ensure that you can try it, you should reserve your spot in advance.
To find out about the specials on offer you can visit the X'ploration Nicolas Feuillatte website and when you do go (because why wouldn't you), make sure to share your food pics on Facebook and Twitter using the hashtag #XploreNicolasFeuillatte for your chance to win a culinary experience at one of the participating restaurants worth 1000$. To find out more about Champagne Nicolas Feuillatte, check out their Twitter and Facebook.
We'll cheers to that. Happy champagne sipping and signature dish eating!
Update: Participating restaurants were so excited about the promotion that they decided to extend their designated week. All the restaurants will be offering their pairing until November 22, 2014. Ask about it when you call for your reservations.