A couple months ago, a fire raged on St-Denis destroying several restaurants and bars. Among them, Diablos BBQ Smokehouse unfortunately lost its entire building. We remember the beautiful back terrace and courtyard full of people enjoying great music and inspired St-Louis style food. Luckily for us, like the proverbial phoenix, Diablos has risen from its ashes and smoking those wonderful meats again.
Now on St-Laurent, the owners have decided to turn their considerable talents away from the bar that was and towards the restaurant that is. Covered in cedar planks, the new location smells of wood no matter where you are. There is something a bit beyond the usual fake staging of a themed restaurant in Diablos. Sure, it has the stereotypical bullhorns and cart wheel, but it FEELS rustic. It's small, rough, unpolished, and tough. It feels like you've walked out of the cold and into the Deep South. It is exactly what it tries to be, and we could not be happier for them!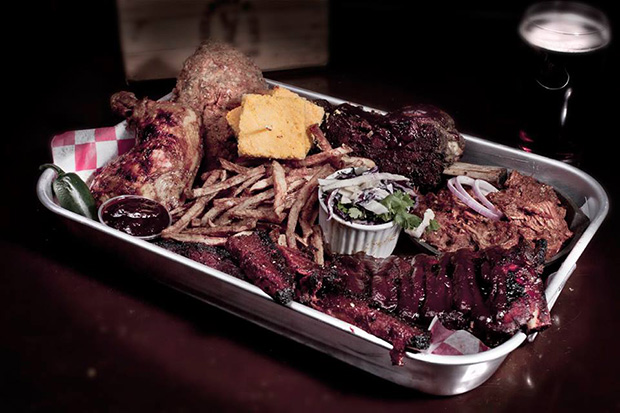 Their grand opening night began with three of their 100+ signature cocktails. We enjoyed the modified Long Island with Jack Daniels and the Raspberry Lemonades. Both were on the sweeter side and had Diablos' homemade lemonade. They stood a perfect contrast to the earthy, smoky meat to come. Like a carefully oiled engine, the finger foods started to fly out. Lean and smoky baloney slices. Chicken wings with three homemade sauces: ranch, jalapeño, and BBQ. Rich creamed corn mixed with bacon, cheese and sour cream. Then a showstopper: pulled pork with homemade slaw packed in specially made pretzel slider buns. We managed to snag a couple of those messy bites of flavour. These were followed by more finger foods like the aged mac and cheese with chorizo and another round of wings. The cocktails flowed and everyone was enjoying that bluesy music which always makes you wonder if you should take a trip down south. And finally, the best item to come out of their smoker: beef brisket. But not just any chunk of fall-apart, spice-encrusted meat. No, these are cooked for 24 hours and taste of earthy smoke. It definitely brings the wow factor and had us hooked.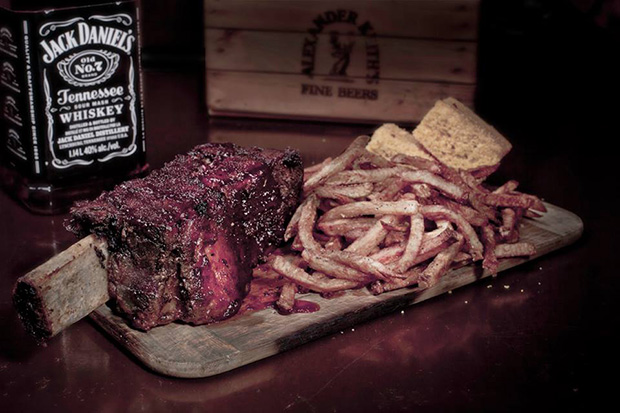 Diablos' rebirth is a boon to smokehouse and BBQ lovers alike. With its new focus on food, they are sure to attract a great crowd of meat lovers. They have even added live music on Tuesdays for their weekly Eat n' Beats. Oh and for those who have a bottomless pit for a stomach: endless ribs for $25 every Monday after 6:00pm. Whether for their special nights or a meaty meal, Diablos is a strong contender for smokehouse king.
3619 Boul St-Laurent Montréal, QC H2X
(514) 564-8666