If there's something people seem to have an adoration for, it's the timelessness of vintage glam. Especially when it comes to décor. And that's what Harlow in the Old Port is all about. Emphasis on the glam. Boasting 3 different rooms, a gorgeous mirrored bar, and the unmistakable vintage vibe, Harlow is sure to become a Montreal hotspot. And it's not only a place to hang out and sip cocktails (though, you'll likely want to do that too): they also have a full dinner service that's sure to satisfy your taste buds.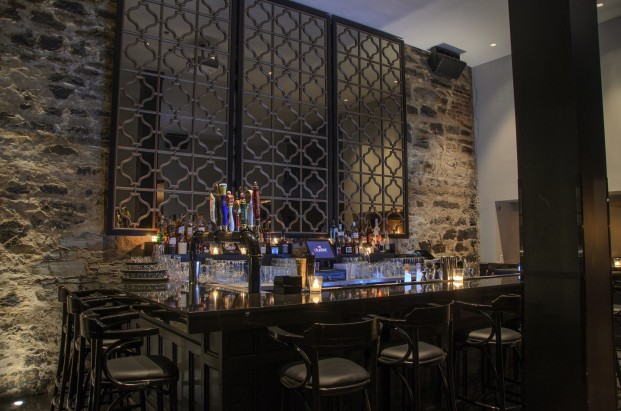 Let's discuss the grandness of Harlow. First off, with Stevie B and Brahms Yaiche (the guys who brought us endless fun and napkin throwing at Time Supper Club) behind it, we know it'll be a hip spot. But Harlow offers a lot more. The first thing you see is that eye-catching bar, and further back is a lounging area fitted with banquets and wooden tables, the perfect spot for some drinks and nibbles. And completely in the action. If you fancy something quieter or more intimate, all you would need to do is head up the stairs to the smaller bar and dimly lit tables and couches. Do we sense a date night spot? And of course, because Harlow is more than just another bar, just off to the side is their dining area that, while it's large, still maintains that swanky vibe you went there for.
We snagged an invite to the Harlow launch party, which gave us the chance to sample their yummy menu and sip on their cleverly named and creative cocktails. We tasted the evening's cocktail, a gin, champagne, and berry drink garnished with fresh berries. And, of course, weate too. So what were some nibble highlights? Little fried cheese bites with a tomato dipping sauce, beef and pork sliders, popcorn shrimp the size of chicken nuggets served on skewers with a light honey glaze, lamb chops with pesto, and a phyllo dough pastry stuffed with feta. We also loved that there were bowls of seasoned popcorn scattered throughout because popcorn happens to be the perfect drinking companion.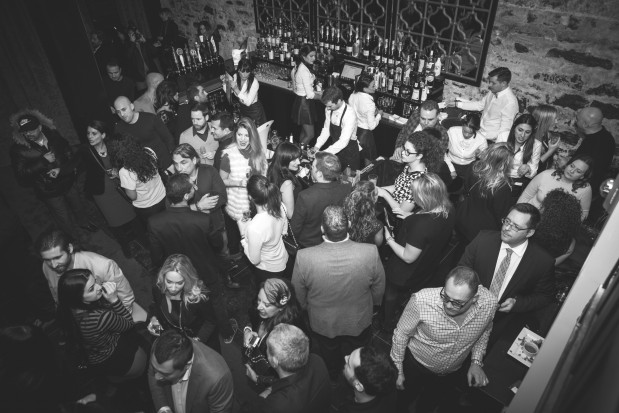 With its fresh and contemporary fine dining menu and unmistakable old Hollywood vibes, Harlow is bringing back some much-needed excitement to Place Jacques-Cartier.
Harlow is open Wednesday to Saturday from 6:00pm to 3:00am with live DJs on Thursdays and Saturdays. You can also keep informed about what's going on at Harlow by following them on Facebook and Instagram.
438 Place Jacques Cartier, Montréal, QC H2Y 3B3
(514) 396-3330