We love us a good fire pit, and there's nothing like cooking deliciously charred meat and veggies and roasting ooey gooey marshmallows for dessert. It's all about that cottage life! But wait – Montreal now has its own fire pit, and it can be found tucked away in the opulent and classy Mercuri restaurant. No more outdoor cooking huddled up in your oversized sweaters: dress to impress and head over to this upscale eatery in Old Montreal.
Mercuri is an impressive space with two sections: a more casual side housing the fire pit and a bar-like feel and ambiance, alongside a fine dining side for a posher and sleeker dining experience. The décor is all wooden beams and dark stone with their stocked wine cellar displayed behind a glass case. Don't be shy to ask their in-house sommelier for a wine pairing!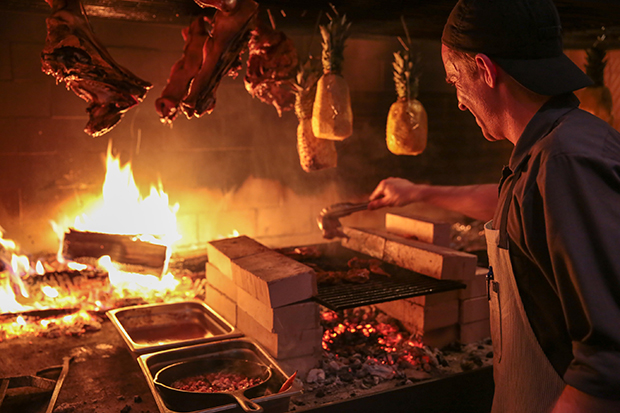 Mercuri launched their fire pit on November 12th, 2014, and we were there to see the magic happen. Chef Joe Mercuri was in the thick of things, stoking the flames and preparing various dishes for the eager consumption of foodies, bloggers, and media. Some of the yummy treats you can order roasted to perfection are the 19 spiced chicken breast on the bone and the prime rib with a coffee glaze and roasted peppers. For the adventurous eaters, the Mercuri team will also be roasting pig head with sumac, coriander, and honey as well as sweetbread duxelle with rosemary and lemon.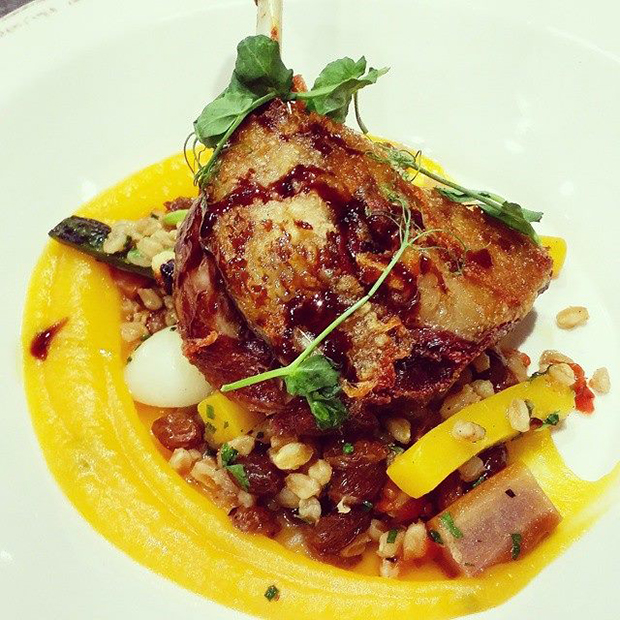 Vegetarians need not despair, because Mercuri also roasts delicious vegetables, like fennel with orange and ginger, sweet potato with chimichurri, and a grilled Cesar with caper berries and yogurt. Our favourite vegetarian dish of the night was a mouthwatering truffle oil sauce draped over a semi-melted pungent Bulgarian feta cheese with a grilled slice of buttery bread for dipping. We are drooling at the thought! Convince your dining buddy to order this dish and then steal it (who will blame you?).
Other dishes cooked without the fire pit that you absolutely must try include the pappardelle with rabbit, porcini, and celery with a slightly moussed sauce (meaty mushrooms and tender rabbit… hello!), the refreshing cubed beef tartare with daisy button and parmigiano reggiano, and the risotto with truffles, creamy stracchino (dollops of stracchino on anything will make us happy), and almonds.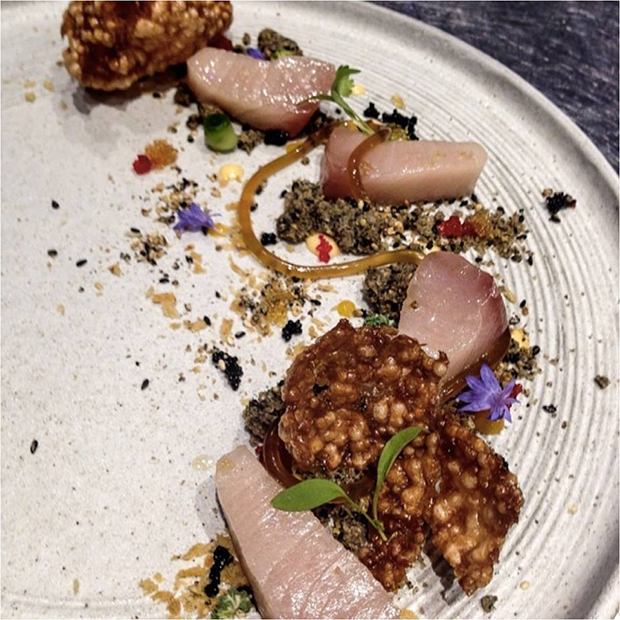 Mercuri's new fire pit changes the face of the typically fine dining feel of the restaurant, giving it a unique aspect that sets it apart from the rest. We're excited to see what new creations Joe Mercuri will be concocting with his new toy.