Valentine's Day has become a bit of a drag. Let's be honest here: it's a Hallmark holiday meant to squeeze your wallets and to put pressure on the poor guys who couldn't give a hoot about the cheesy holiday. Ladies, a lot of you care about what your significant other is going to do for you for V-Day, while some of you will take matters into your own hands and plan something special yourself! And then there are still others who hate the holiday and all that it stands for. We decided to do away with the lame and typical Valentine's Day activities this year, and instead curate a list of fun activities you can take your date to that he/she won't expect! What's great is that these can also be enjoyed in a group (can anyone say Anti-Valentine's-Day Party?) at any time of the year!
Go Tubing

Who doesn't love rolling down a snowy hill sitting on a giant doughnut? It's exhilarating and it brings you back to that carefree childhood we're all yearning to get back to. This is the perfect date for people who like to let loose and have lots of silly fun. Glissades des Pays d'en Haut offers tubing for a 2 hour block at only $19.13 and a 4 hour block for $22.61. Make sure to wear snow pants and then grab a hot cocoa to warm yourselves up after.
Get Your Hands Dirty

You can always go to some fancy shmancy place on Valentine's Day like everyone else, or you can go somewhere unexpected and original to celebrate this day of love. Nothing screams a solid relationship like the ability to make a fool of yourself and make a mess in front of your significant other. Take them to dinner at The Captain's Boil and get dirty! This seafood restaurants requires that you eat your delicious and fresh saucy seafood with your hands! They provide plastic gloves and a bib to avoid any major messes, but we still don't suggest wearing white.
Try Axe-Throwing

Sometimes, it just feels good to let off some steam in a super aggressive way (without hurting anyone, of course). In comes axe-throwing. Learn how to axe-throw with your date and show them you're not afraid of anything they may throw at you. And it doesn't hurt if you look badass while doing so (maybe go a few times before to perfect your technique to really impress them!). Go to Maniax and play for 1 hour at $25 each or 2 hours at $40 each. Let the games begin!
Explore Outer Space

If your date is into all things spacey, maybe the Planetarium could be a great place to take them! This place isn't just for kids; people of all ages can learn a thing or two about the world beyond our planet. Check out their permanent exhibit or watch one of their ever-changing exhibits, like the Mars Rocks exhibit, where they will be presenting real-life fragments of Martian meteorites! Even though some of the shows are targeted for younger audiences, we're sure there's plenty you can discover. It's a way more interactive and interesting date than the typical dinner and a movie.
Indulge in Molecular Gastronomy

If you really need to impress your date and take them somewhere fancy shmancy, don't go the typical route. Take them on a molecular gastronomical experience at Resto-Loft Fibo. You'll try food in a way you've never tried it before, and the new and exciting textures are sure to get eye-popping reactions. Have you ever had salt as foam? Or Tabasco in caviar form? For dessert, you can have a coffee crisp cake with coffee flavoured pop-rockets. A literal explosion in your mouth! And don't get us started on the cocktails… Tell them what kind of drink you usually like, and ask them to work their magic. You'll get a delicious concoction complete with dry ice and potent flavours. Enter with an open mind and enjoy!
Get Brunchin'

If dinner ain't your thang, maybe brunch will be your best bet. Check out your date in the light of the morning and figure out if they're the one over brunch! Stay away from the popular brunch spots (you'll wait in line for hours anyway) and go somewhere less known but oh so delicious. Try La Récolte – Espace Local and step into foodie heaven. They call themselves a bio-local-responsible restaurant, meaning that they use the freshest ingredients from local sources. The food is always bursting with flavour all the while supporting local merchants. Win-win!
Go rock Climbing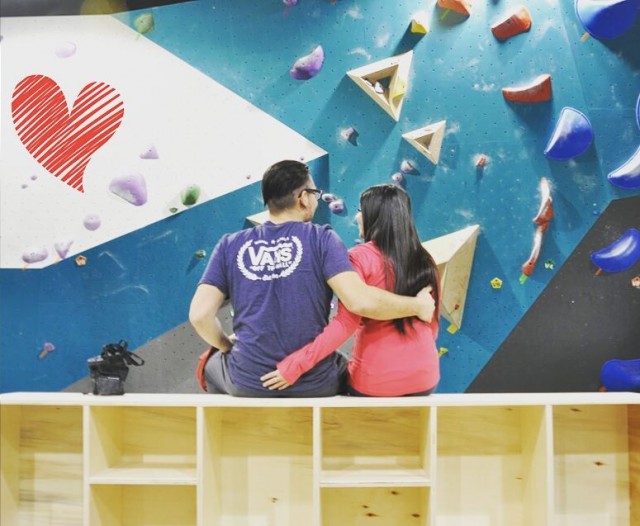 Nothing says love like testing out your upper body strength (we have next to none.. shhh). Rock climbing haven Beta Bloc is having a romantic special this Tuesday of love to celebrate the mid month mark. Members get free entry for a guest of their choice. Non-members get 50% off their guest's entry. And if you want a warm beverage after all that hard work (as you stare into each other's eyes), coffee, tea, and hot chocolate are 2 for 1. A workout and quality time with that special someone? Perfection.
Have a Few Laughs

The mark of a successful date is the ability to make them laugh. Most people like to laugh (people with souls, that is), so an activity that will ensure that is a great idea. Check out a comedy show and do something different! Get there early, sit in the front row, and wait to get roasted. It will be even more fun if you have the chance to interact with the comedian. Comedy Nest actually has a Valentine's Day themed show on the 14th that is worth checking out. If you can't go that night, there are a bunch of other shows around V-Day!
Peruse Urban Art

Maybe your date appreciates the finer things in life, and would much rather discuss shadows and perceptions in front of a painting than discuss wine at dinner. We have an incredible number of museums in Montreal, but maybe you want something a little more hip, young, and modern. Station 16 is a great art gallery with permanent artwork as well as temporary exhibits so you can discover an entire world of street art you've never seen before. Starting on February 16th, Eric Clement's work combining imagery and text (a "visual haiku") will be on display.
Sip Cocktails at Your Local Speakeasy

Anyone can head to a local bar and grab a few cocktails and call it a date. But if you really want to impress someone, take them to a speakeasy, a bar hidden away from tourists, often behind unmarked doors, where only the locals are in the know. Le 4e Mur is probably one of the most impressive, since you have to find the right brick to press to get past the brick wall (we feel like Harry Potter in Diagon Alley for the first time!). Inside, you'll find classy jazz playing, and sometimes even a live band. Sip on expertly crafted cocktails and sit back as your date falls in love (with you or with the bar – that's up to them).
Grab a Coffee with Cats

If a coffee date is what you're considering, try something new. If you or your date are cat lovers, Café Venosa is the perfect spot. Sip on coffee and hang out with 8 to 10 cats. The cats are rescue animals and the two owners encourage patrons to adopt the bundles of joy. The cats can roam freely in the café, so hopefully one chooses your lap as a resting ground. And if you and your significant other are looking to adopt… well this is the perfect place!