The restaurant business is a tough sell, and a restaurant that has been around for 8 years is really a true success. This is the case for Restaurant Su, a Turkish restaurant in Verdun. If you haven't been yet, you should get there as soon as you can. Montreal is replete with Italian and French bistro restaurants, but Turkish food isn't something you eat every day (unless you're Turkish, of course), all the more reason to go there now now now!
Su recently renovated and changed their look and the space looks beautiful with its detail and just the right pop of colour. Decorative and colourfully designed plates adorn the walls with a matching bar to complete the motif. The square tables interspersed throughout the restaurant are a bright blue with matching chairs mixed in with black ones. The restaurant is warm and inviting, with communal tables on either end, encouraging patrons to eat and make friends. You know what they say: friends are made over food (who are "they" and why are they so wise? But maybe only we say that…).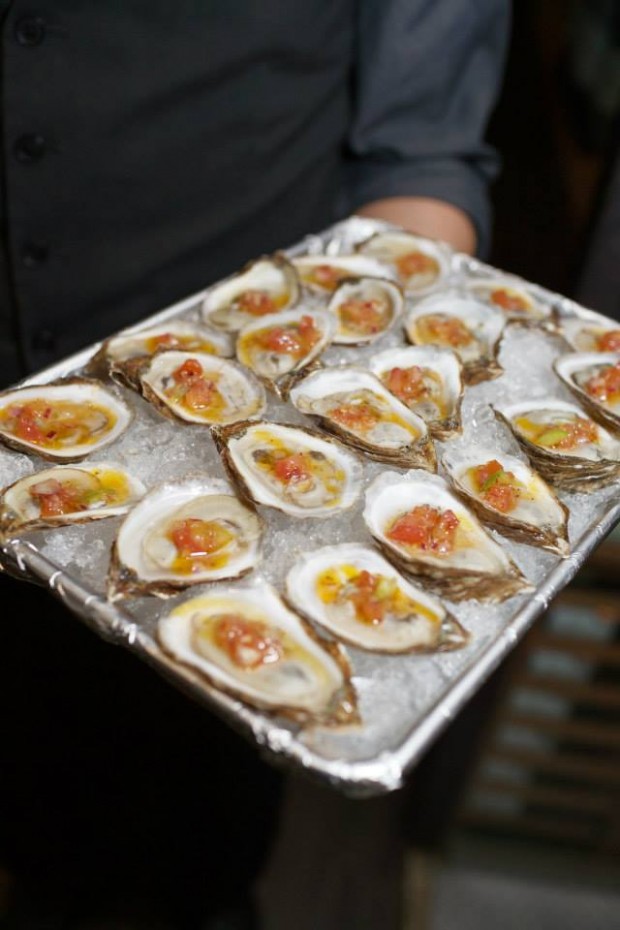 For their 8th birthday celebration, Su didn't skimp on the goods. The night started off with Turkish sangria made with pomegranate juice (it was as good as it sounds) and plenty of oysters with a delicious mignonette. Wine was flowing and the oysters circulated to the hungry invitees. Why have one oyster when you can have two (or a couple dozen)? The mezes came out on a huge wooden board, including braised Jerusalem artichokes with carrots and orange, red lentil patties, Turkish filo dough rolls with feta and herbs, and roasted beets with yogourt. These menu items may sound simple, but they are anything but. These delicious ingredients, mainly vegetables, are prepared with Turkish flair and elegance. Chef Fisun Ercan said that she likes to make food that is not only delicious, but also good for you. She definitely succeeded!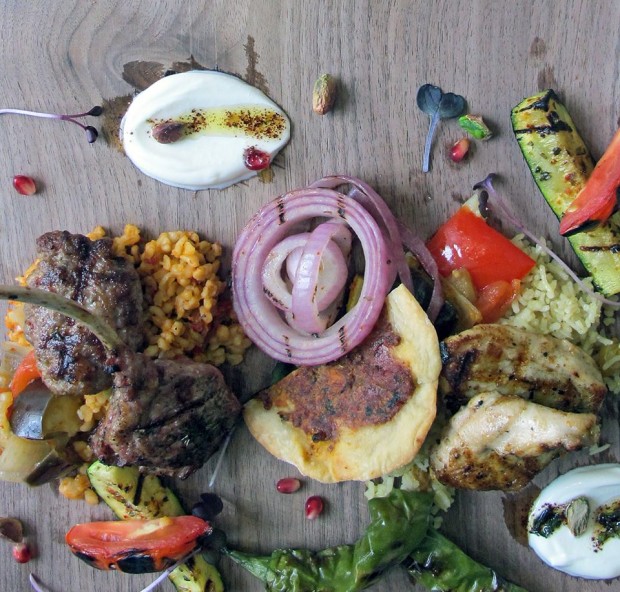 The mains were also presented on a large wooden board, and it was overflowing with goodies. Cornish hen, lahmacun (sort of like a Turkish pizza with minced meat, vegetables, and herbs), lamb meatballs, and lamb chop were among the delicacies available. Our favourite was the stuffed bread with braised lamb and pumpkin. The bread was moist with a crispy crust and the meat and pumpkin were exploding out, fighting over who got to warm our bellies first. The platter was impressive to behold and even more impressive to taste.
The night ended with lokum (Turkish delight, and boy were they delightful!) of varied flavours like mint, rosewater, and hazelnut. Plan your next night out and make the trip to Verdun and try Restaurant Su.They've been around for so long, they must be doing something right (we can confirm it: they are)! Check out their Facebook and Twitter for news and pictures.
5145 Rue Wellington, Verdun, QC H4G 1Y2
(514) 362-1818