Occasionally, when we have a chat with friends in other cities, provinces, or countries, we get a bit of a Bitter Betty feeling when they tell us that they've recently eaten Chipotle. But Montrealers, it's time not just to rejoice, but to brag big time, because who needs Chipotle when you've got another St. Henri gem, Tejano BBQ Burrito. And the deliciousness that is Tejano is making us say "Chipotle who?"
Early this past December, Tejano opened its doors on de Courcelle (HURRAY), bringing together Mexican and Texas BBQ flavours all in one compact spot. It's the creation of Blackstrap BBQ partners Clara Barron and Dylan Kier along with Ryan Bloom (so you know right off the bat that everything is going to be muy bien).  The space itself is cozy and simple, done up nice, bright, and perfectly sparse, meaning there's plenty of elbow room for you and your burrito.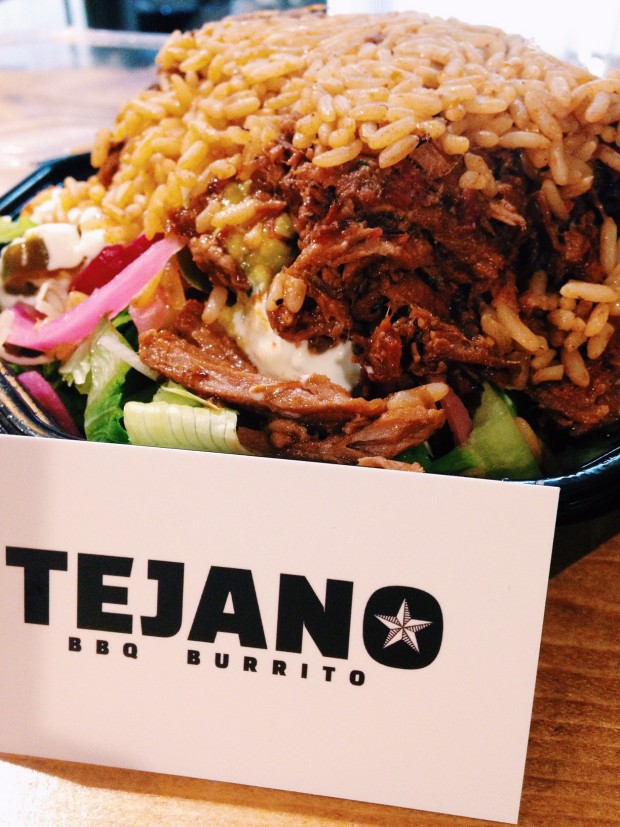 Right. About that menu. It's all pretty straight forward: you can have a burrito, burrito XL, tostada, salad bowl, or salad bowl XL. Then you have to choose your meat (which is being smoked at Blackstrap): chicken tinga, chorizo pork, or ancho and cumin brisket. Or of course, you can do it veggie, which is black beans or hominy (coarsely ground corn aka grits). The prices vary depending on what "vessel" you get (aka burrito vs. salad bowl) and what filler you get (meat vs. veggies). They range anywhere from $7 to $13.
The truth is, these parts are just the bases. The fun part is dressing it all up: rice, beans, cheese, homemade pico de gallo, lettuce, pickled onions, hot peppers, and of course, guacamole (which is $1 extra and well worth it). And don't forget sauces: they have a spicy or mild, or you can mix them together for a medium, and they have a ranch or cilantro based dressing for the salad bowls. Oh, and if you're feeling peckish and need a pre-nibble, might we suggest you get some corn tortilla chips (they're locally made) with either salsa ($2.50) or guac ($4).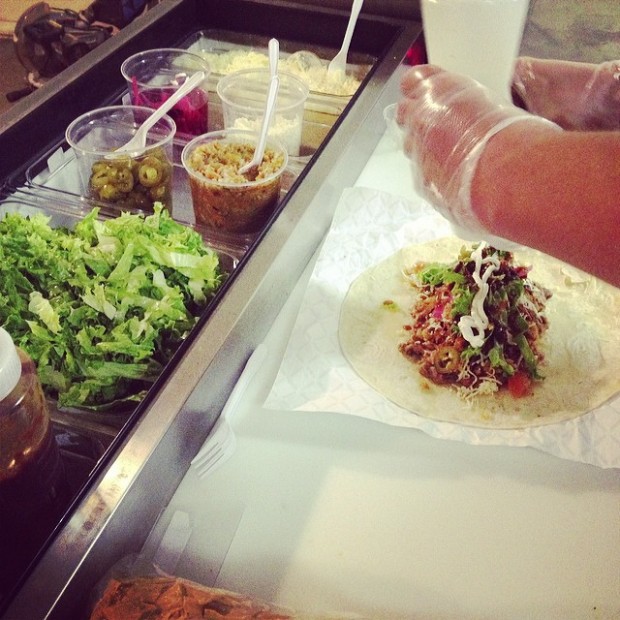 Because everything they're making is so delicious and fresh, it's going to be hard not to go to Tejano multiple days a week. There are worse things to be addicted to, right? Get your fix Sunday, Tuesday, and Wednesday from 11:00am to 9:00pm, and 11:00am to 10:00pm Thursday, Friday, and Saturday. Also be sure to follow what Tejano is up to on Facebook, Twitter, and Instagram.
511 Rue de Courcelle, Montréal, QC H4C 3C1
(514) 303-3500