Disclaimer: this meal was gifted.
When I found out there was an Egyptian restaurant in the West Island, I was tickled. Being of Egyptian descent on my maternal side, I was excited to try Egyptian food that wasn't made by my mother or my Teta (grandmother). Enter: Tanoura. The name Tanoura comes from the traditional Egyptian dance of the same name. The dance is a symbol of the Earth's rotation around the sun, and it's really quite beautiful.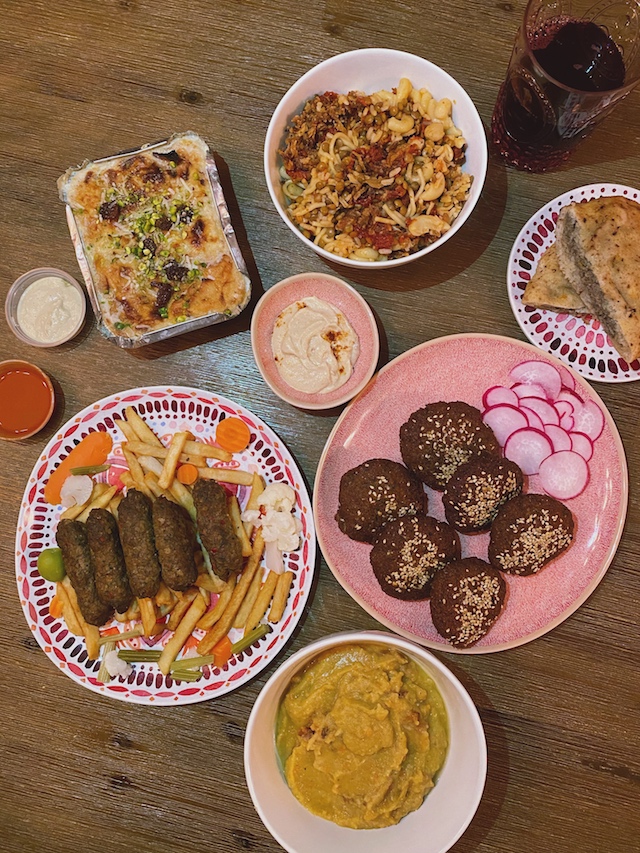 Because of the pandemic, I was not able to dine in the restaurant, which is really too bad because it's so beautiful, vibrant, and colourful inside. I'm sure it would have lifted my mood and made eating an even happier experience. I mean, I'm always happy when eating, but it doesn't hurt to be even happier, right?
Tanoura has a variety of dishes on their menu, from subs, to hot dogs, to pizza hot dogs (definitely curious about that one), but I really wanted to try the Egyptian classic dishes. I got to try some dishes my mama makes as well as some I've never tried before.
Savoury Dishes
First, I tried their lentil soup. It was thick, hearty, and flavourful. It could probably be a meal on its own but in a smaller portion it was the perfect start to my meal.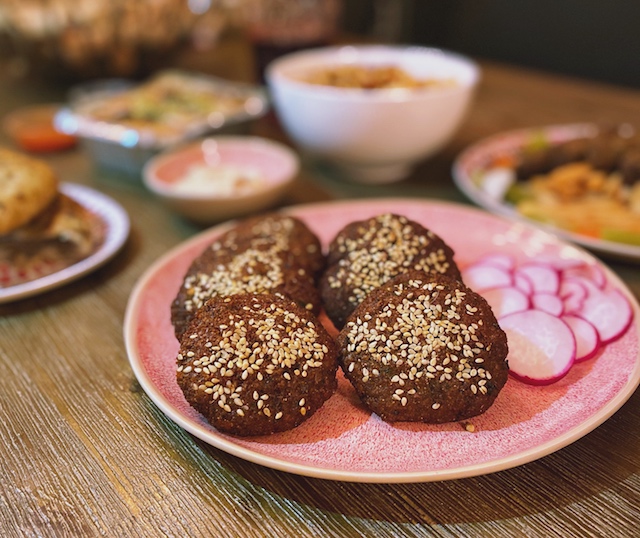 Next, Egyptian falafel ($4 for 5). Yum! You're used to falafels made of chickpeas, but in Egypt, they make it with dried fava beans, or a combination of fava beans and chickpeas, instead. The fava beans really change the flavour. These falafel have earthier tones while keeping that delicious crunch. It was perfect on its own or dipped in hummus.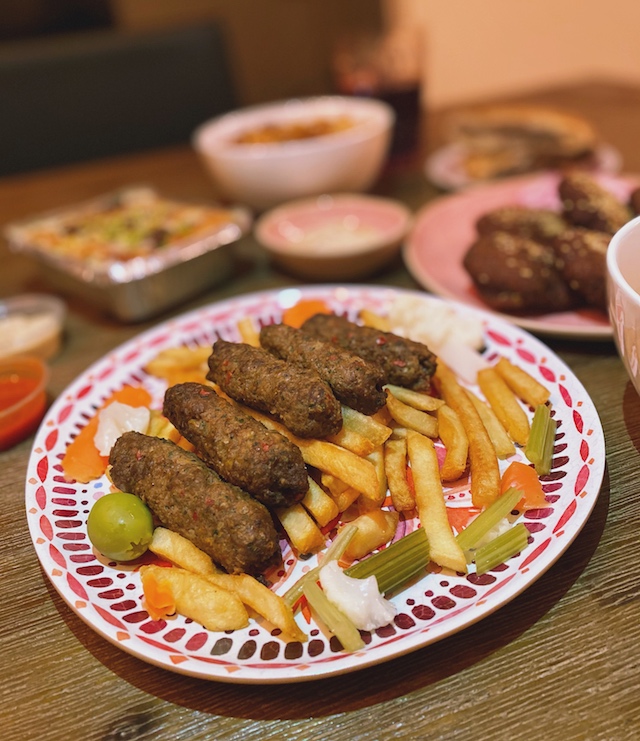 Kofta Alhaty ($11.90) – you've seen kofta spelled in various ways: kofta, kafta, kefte. Egyptians spell it "kofta," but either way you spell it, it still tastes good. The kofta at Tanoura is made with beef, parsley, and various spices. Very different from my mother's version (maybe different regions cook it differently?), but nonetheless it was so tasty. It was cooked perfectly and had so much flavour.
Egyptian Lesser-Known Classics
Next, the Kushari ($6-$8). This is a dish I'd never heard of nor tried from my mother or grandmother, which is funny because it's considered to be Egypt's National Dish. Every restaurant serves it, and every household makes it. It's a very strange dish when described. It consists of rice, lentils, chickpeas, pasta, spiced tomato sauce, and crunchy onions. Odd combination, but I get why it's so popular. It's packed full of flavour and is a very filling meal. Definitely something you want to eat to tide you over for the majority of the day. The spiced tomato sauce is fragrant with cumin and other spices and the crunchy onions are a delicious final touch.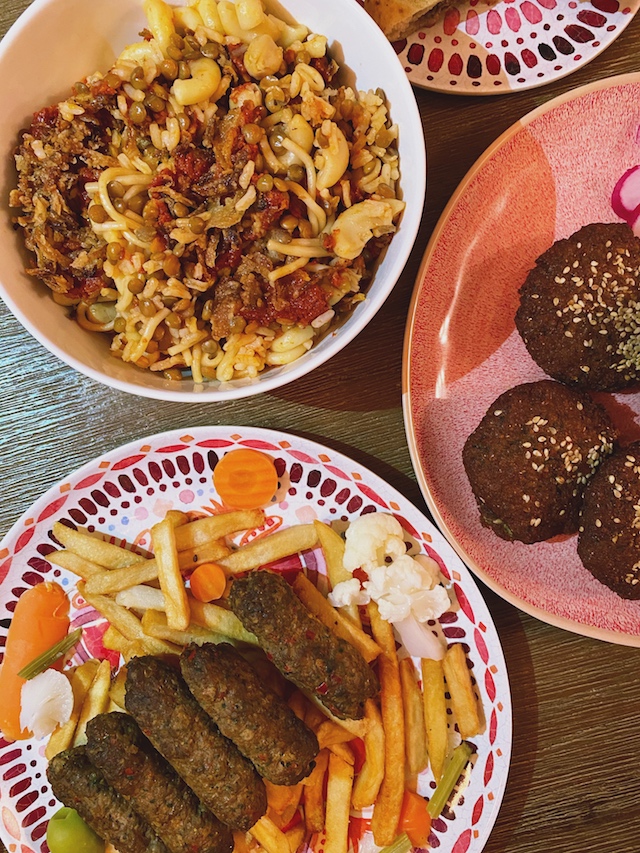 My final savoury meal item, the Hawawshi ($8). Think: pizza pocket meets hamburger meat, but way better. You may have heard of it under its Lebanese name, arayes. Hawawshi is inherently pita stuffed with a kofta-like meat mixture. The pita bread used for Hawawshi is thick and not what you'll usually find in the grocery store. The Alexandrian way of making this dish is to place the meat mixture between two layers of dough, and then baked in the oven. The result: fantastic. This was probably my favourite dish. It felt like something my grandmother would make after a winter day of playing outside, to warm us up and fill our bellies.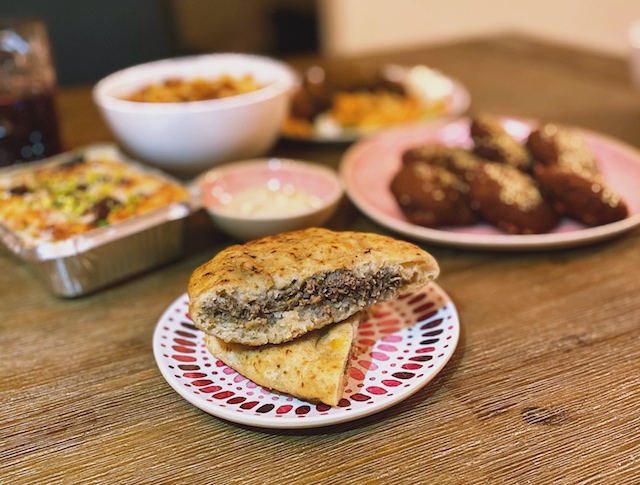 There's Always Room for Dessert
Finally, for dessert, I had the Om Ali ($5.25), which is a unique sweet treat. It contains phyllo dough, milk, and nuts. You really can't get better! It wasn't overly sweet, and had the right amount of creaminess. Delish!
I would definitely go back to Tanoura. I'd like to try their molokhia and their macaroni béchamel and see how it compares to my family's recipes. If you haven't tried these dishes, run, don't walk, to Tanoura and order them. Based on everything else I tried, those two are not likely to disappoint.
4230 Boul Saint-Jean, Dollard-des-Ormeaux, QC H9H 3X4
(514) 696-6565