With Jorge Jr. Da Silva of Mtl Cuisine, Martin Juneau, and Benoit Gagnon involved in a project, you know there will be a lot of hype surrounding their newest venture. The dream team has just opened Bar Commerce in Old Montreal, a gastropub with a great ambiance and look.
Their opening event was a smashing success. With little to no publicity prior to the soirée, the space was packed with eager patrons, drinks in hand, waiting for the canapés streaming out of the kitchen. The restaurant has two floors, the top floor cutting off allowing you to look over the custom made Edison lightbulb chandeliers onto the huge bar below. The decor is modern and industrial, with wooden and metallic elements grabbing your attention. The look is trendy and chic, perfect for a night out for cocktails and yummy food (one of our favourite pastimes).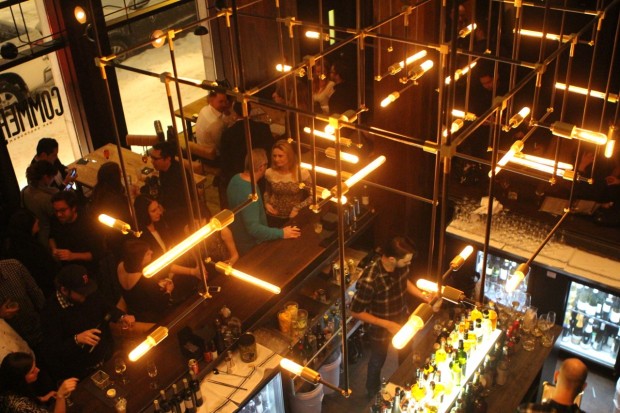 Bar Commerce is a gastropub, meaning they serve gourmet bar food, borrowing from the multiple cultures that make up Montreal. Who better to provide this food than Chef Adam Zaitouni, also of Vicolo, formerly of Grinder and Les Enfants Terribles. Zaitouni prepared multiple canapés at the launch event, and those wise enough to take the hint stayed close to the kitchen to be the first to sample the delectable treats (we're not talking about ourselves, of course… or are we?). Some of our favourites were the mini steam buns with confit piglet, BBQ sauce, and pickled red onions (we grabbed one every time we saw a platter go by… and they may have gone by half a dozen times) and the house smoked salmon with fennel and citrus. They also experimented with game meat, serving deer tartare topped with an egg cooked at 65 degrees and a venison carpaccio with parmesan and old fashioned mustard.
Not to be forgotten, the burrata with olive tapenade and pickled tomatoes on black bread was a delicious treat. Our favourite dessert was the pumpkin cake with cinnamon ice cream and confit pumpkin. Check out their just released menu to see if our favourites made the cut (we hope they did!).
With such a great team behind it, we are sure Bar Commerce will be the new "it" spot to hit up in Old Montreal for gourmet bar food, great cocktails, and a good time.
500 Rue McGill Montréal, QC H2Y 2H6
(514) 871-1500