Doughnuts. These sweet treats can wipe the tears of a break up, brighten a Monday and, if you don't show up empty handed, make you the most popular event attendee! No matter the occasion, you need doughnuts, so follow our guide below to Montreal's best deep-fried doughy delights. Bottom line: You 'dough-nut' want to be on a diet when crawling through these joints!
La Cornetteria

This place is the perfect Italian pastry shop located on the main strip of Little Italy. La Cornetteria satisfies all your cravings, serving cronuts, Zeppole (three delicious flavours $3.25 each), cannolis, croissants, even focaccia sandwiches. Great place to pick up a box of treats for your Sunday morning, or grab a seat and enjoy a coffee with your sweet. One of our favourites is the nutella cronut ($4): nutella inside and out – that's a double win.
6528 Boul St-Laurent, Montréal, QC H2S
(514) 277-8030
Trou de Beigne

The hype around this new place is everything you've heard and more. The opening of Trou de Beigne in Little Italy is great for a mid-day treat. The base of the doughnut is wonderfully soft and light, and their flavour selection is sure to be nothing like you've ever seen. All their wild flavours are made in both regular size ($2.75) and mini ($2 – for those of you who really are trying to watch the waist line!). Our personal favourite is the maple bacon doughnut; perfect way to enjoy Cabane à Sucre season in Montreal.
156 Rue Saint Zotique E, Montréal, QC H2S 1K8
(514) 701-3735
San Gennaro

On a bright Sunday morning in Little Italy, this place is bumpin', and no doubt because of their variety of Italian pastries you can smell from outside. San Gennaro is a great pizzeria-café serving a wide variety of tasty eats including cannolis, biscotti, fresh focaccia pizza, and much more. We definitely recommend trying their Bomboloni ($2.50) that come in three different flavours; no doubt we went for the nutella one. These are light, citrusy, dough bombs coated with sugar and stuffed with nutella — don't tell us that doesn't sound like a dream!
69 Rue Saint Zotique E, Montréal, QC H2S 1K7
(514) 273-6868
Patisserie Wawel

Patisserie Wawel is a hidden gem found right as you enter the main entrance of the Jean Talon market. Their large sign overhead: "World's Best Doughnuts" tells no lies. These circular treats are next-level Boston cream doughnuts that are perfectly crispy on the outside and oozing with sweet custard. Not only that, the price is right at $1.50 each or 6 for $6. These are not to be missed by any doughnut lover. They have locations all over the city, so no excuse!
7070 Avenue Henri Julien, Montréal, QC H2S 3S3
(514) 938-8388
Chez Boris

Chez Boris is an absolute must when searching for Montreal's best doughnuts. Studying with an over-priced muffin and latte from Starbucks is out of style beside Chez Boris' basket of six doughnuts ($4.50) to enjoy with your coffee. This edgy joint is also spacious enough to sit and hang out for a while, so bring a book or some work and enjoy the sun pour in.
5151 Av du Parc, Montréal, QC H2V 4G3
(514) 900-1965
Tommy

This beautiful café, nestled in Old Montreal, may not strike you as a usual suspect for doughnuts — but that's why we're here! You absolutely do not want to overlook Tommy's delicious nutella cronuts. Alongside their wide selection of treats you'll find these golden, crispy, flavour bombs to enjoy with your coffee or tea.
British Empire Building, 200 Rue Notre-Dame O, Montréal, QC H2Y 1T3
(514) 903-8669
Mr. Puffs

If you thought you were cool in elementary school for bringing in Timbits on your birthday, you can only imagine the effect Mr. Puffs will have on the crowd. These deep-fried dough balls come in a variety of different flavours: our personal favourites are sugar cinnamon and chocolate hazelnut. Showing up with a box of these beauties will definitely get you to the top of everyone's invite list. Or they can make you the world's best host if you take advantage of their catering service.
4879 Boul Notre-Dame, Laval, QC H7W 1V3
(450) 934-7007
Léché Desserts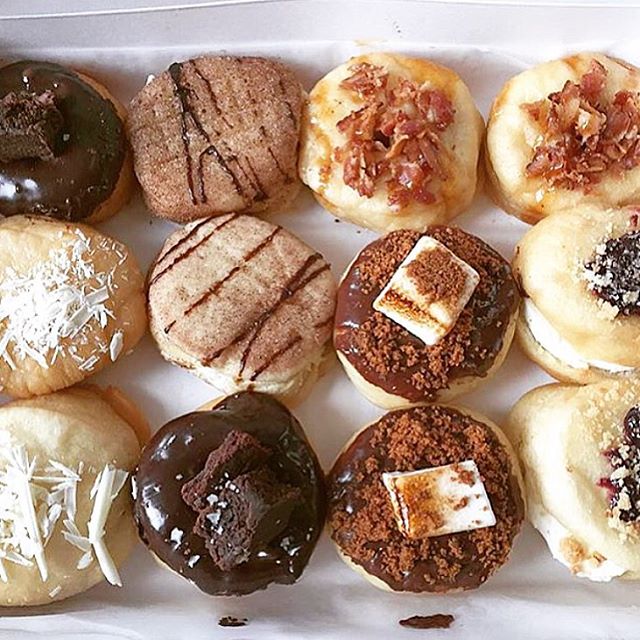 Hidden in the trendy streets of St-Henri, Léché Desserts is whipping up awesome doughnuts with wonderful flavour combinations, some of which include peanut butter and jelly, double chocolate brownie and lemon meringue! These sinful pleasures are definitely worth the visit. Our personal favourite is the raspberry doughnut ($3.05) exploding with jam that tastes just like Mom's. You'll want to pick up a box of these on the way to the office; don't worry, no one said anything about sharing!
640 Rue de Courcelle, Montréal, QC H4C 3C5
(514) 303-2200
Petit Lapin

For those of you with food allergies, have no fear! The doughnut world extends to you too! Petit Lapin is a wonderful bakery that specializes in creative, tasty and most importantly, allergy-free treats. These baked good are cute and mouth-watering; even those of you without any restrictive food allergies will want to make a trip to sample their variety of sweets.
342 Avenue Victoria, Westmount, QC H3Z 2M8
(514) 507-4077