Restaurants all over Montreal are trying to perfect the pizza game, but a noteworthy new addition to the Montreal dough scene is Nolana Pizzeria. The new eatery sprung up in Old Montreal early this year, opened by the Mtl Cuisine team as well as co-owners and father-son duo Agostino De Riggi of ADR Design and Gian Paolo De Riggi.
You might recognize the decor of Nolana (with a few tweaks) from restaurant Racines. Mtl Cuisine closed Racines and replaced it with this modern pizzeria. The restaurant is long and narrow, but definitely warm and inviting, with dark wood floors and wood panelled walls filled with various picture frames and mirrors. The length of the restaurant is all windows, providing lots of natural light during the day. In the evening, the restaurant is lit with great Edison light bulb light fixtures, a popular trend in other restaurants, like their sister restaurant Commerce, among others.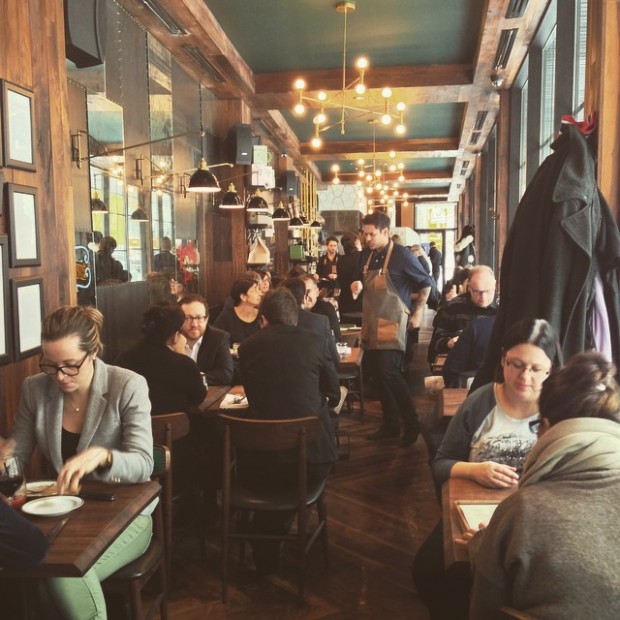 Now for the food. Before we talk about their pizza, let's talk about all the other bites of deliciousness they have to offer. Their involutini di melenzane ($6 each) are thinly sliced eggplants wrapped around creamy burrata and tomato sauce. Anything with burrata in it is a winner, but Nolana is serving the coveted cheese in a way we don't see very often. The merluzzo ($17) is a cod salad with fagiollini and cannellini beans with capers, basil, and lemon, a great and light appetizer to start off your meal.
Nolana also offers salumi like bresaola ($8) with beets, pears, and gorgonzola. If you can't choose what to eat, you can get a salumi tasting ($22) or a sfizi tasting ($17). We'd go for the glutinous option. Why would you pass out on an opportunity to try everything? We wouldn't.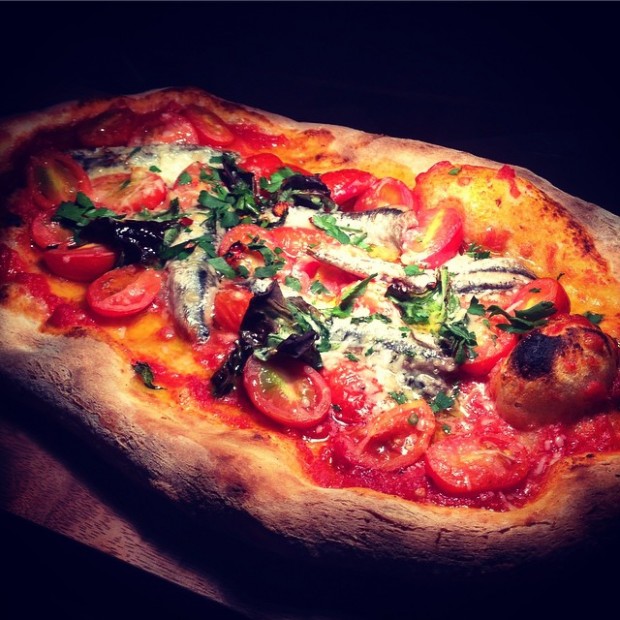 Now for the pizza. Instead of the traditional pizza shape, Nolana makes oval/log shaped pizzas. This makes it easy to share your pizza (wait, why would you share?), because you can cut it up into neat, square pieces, perfect for a quick taste. They serve the pizzas with scissors, Italian-Nonna style, which is really SO much more efficient. Order a few pizzas for the table and swap so you can try a little bit of everything (if that's the case, we can share).
The Margherita pizza ($13) is simple and delicious, with just enough mozzarella, tomato sauce, and basil, to tie all the flavours together. Their Spilinga pizza ($16) has a kick, with spicy nduja salami, sausage, and ricotta. The crust is fluffy and light, not too dense, and you don't feel like you have 5 lbs of dough resting at the bottom of your tummy by the end of your meal (brownie points!).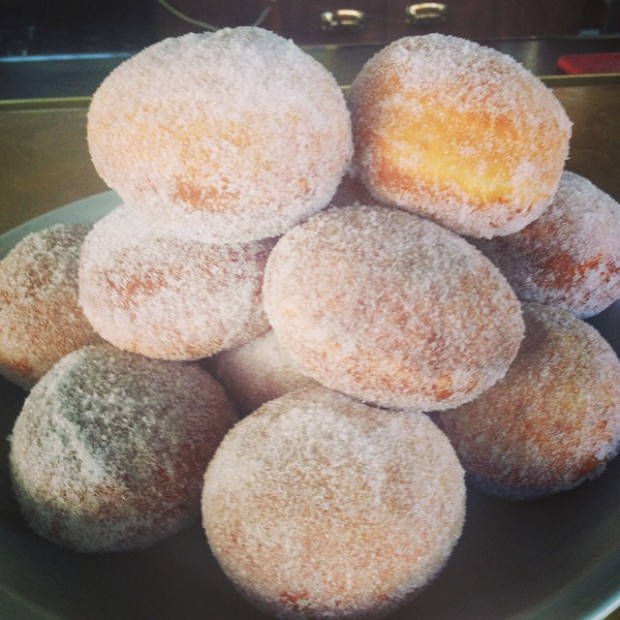 That leaves just enough room for dessert, like their bombolone ($6), two to a serving, one with nutella (drool) and the other with crème pâtissière. Wash it all down with their milk shots, thickened with cream and flavoured with cinnamon (we wish we had milk like that when we were kids).
Now that we've opened up your appetite, check out Nolana Pizzeria on Facebook, Instagram, and Twitter, and try not to drool at their delicious updates.
444 Rue McGill, Montréal, QC H2Y 2G1
(514) 544-0344